On the blue, turquoise mosaics of the mosque's entrance, a poem in Arabic written which means: what do you feel after visiting this mosque, do you feel like a bird in the cage or like a fish in the water, a true believer resembling a fish in the water and a hypocrite look likes a bird in the cage. Before entering the mosque just remind this poem.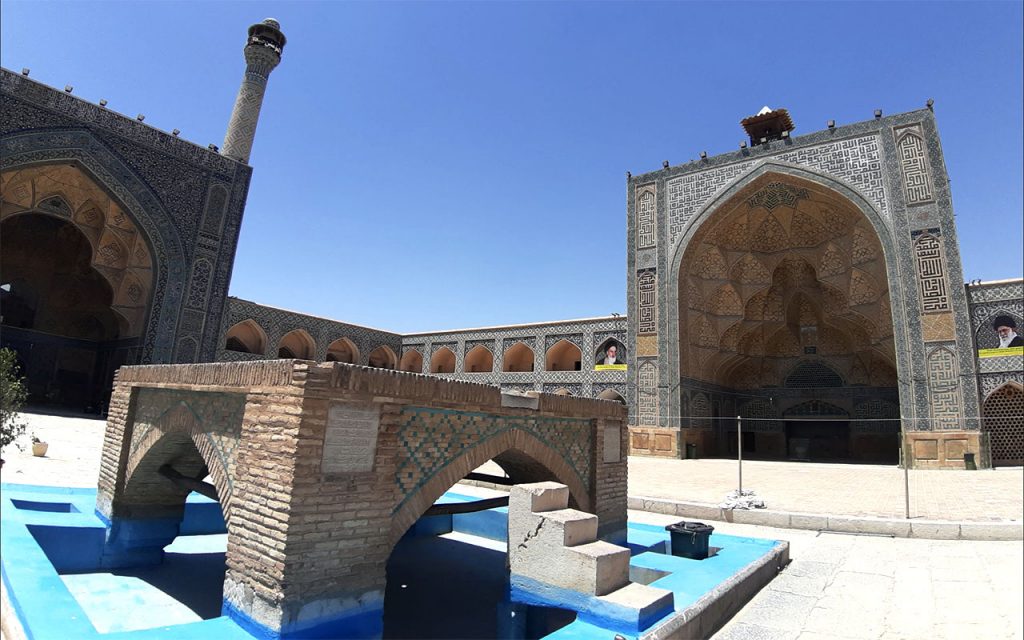 Jame mosque of Isfahan Finding the mosque among the whole Bazaar is a little bit difficult. As it is located in the oldest parts of Isfahan. Date back to more than 3000 years ago which primitive inhabitants because of water and mostly permanent Zayandeh Rood (literally means life-giving river) absorbed here. Around 2500 years ago when Cyrus attacked Babylon and saved the lives of Jews people, a good number of them migrated to this part of Iran and shaped some villages, it was the early Isfahan which was consist of 6 villages. As Jews for their religious ceremonies needed a temple.
---
They built a big one in this place which right now is the mosque. In the most important part of the mosque that is toward the southwest (Mecca) there is tall brick dome named Nezam, on beneath you'll see 3 archaeological layers, the first old layer is the remains of Jews Temple which mentioned, the second one is remains of Zoroastrian temple and the recent is the mosque. There is not a clear time of destroying and building of these temples but a common belief says there is holy and positive energy in the places where people pray the God and also the new religions needs legitimacy and followers, consequently for these reasons all of these sacred places built in replace of each other.
About the architecture – Jameh Mosque of Isfahan
Go back through the history of the mosque, it's the first or the second old mosque in Iran. It is the second oldest because it built around 776 A.C, after Fahraj Jame mosque in Kerman province, but maybe the first as it didn't start officially in its own time. It was built 156 years after announcing Islam in Saudi Arabia, it shows all of these years lasted till people come to this idea of building a Jame mosque.
As it's crystal clear Jame mosque (congregational mosques) is a place for gathering people in Friday for Friday pray which is the most important public pray for Muslims, as Fridays are off days in Muslim countries, people gather together in the biggest mosque of the city under the leadership of high ranked clergy of each city.
Other attractions near by Jameh Mosque Isfahan
Jame mosques are like Amphitheaters in Greece, these places are the most important part of cities, new information about everything could be found there. All of the facilities in a city are gathered around this place like Grand Bazaar, Caravansaries (old fashioned hotels) restaurants, bathhouses, schools, theological schools, etc. Jame mosques also are places for gathering people. In the time of wars, a Jame mosque turns to a place for gathering soldiers, in an epidemic disease to a hospital, in time of shortage a place for distributing foods among people and etc.
As the role of Jame mosque cleared and the history of this mosque presented, it's obvious the mosque is a very good example of 1200 years of Iranian Islamic architecture which has roots in pre-Islamic art and architecture. One may find many designs of pre-Islamic art combined with Islamic.
Although there have not existed any concept of Islamic art. As Saudi Arabia was a desert and shape of houses there was just like a simple four wall room, the time Islam came to Iran, Iranian took a new religion, digested it with their own art and architecture then presented a new type of art. As you can see this new art of Iranian that is transferred to the type of domes (egg shape dome), different types of vaults, using complicated design of brickwork and etc. And also it was one of the reasons this mosque among the other sites in Isfahan registered as an Iran UNESCO world heritage site.
Jameh Mosque Isfahan – UNESCO listing
As Isfahan chose as capital city three times in its history, one may find the most artistic design here, as the Jame mosque is a place to present the power of high ranked clergy of the city, it might build in its glorious way. This old part of Isfahan contains other places like the tallest minaret in Isfahan, Haroun Velayat (the oldest brother of eight Imam of Shia), and Imam Ali square. People who like to surf this tremendous part of Isfahan may glad to stay at Howzak House Boutique hostel, Isfahan Boutique hotel, and Panj Dari hostel.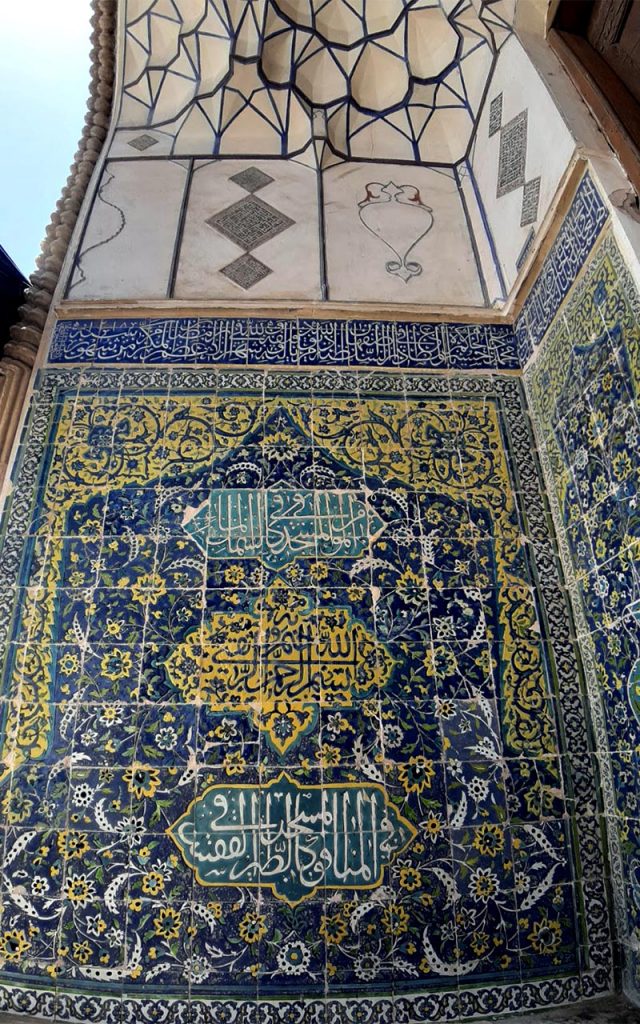 Where to stay near by Jameh Mosque
As Isfahan chose as capital city three times in its history, one may find the most artistic design here, as the Jame mosque is a
How to get to Jameh Mosque of Isfahan
By a private car … with taxi it costs ~ 5 USD from all around the Isfahan to Jameh Mosque of Isfahan. There is no metro station nearby.