Shiraz is the capital of Fars province in Iran and has many historical and natural attractions. Naturally, as a tourist-friendly city, Shiraz has a variety of accommodations and especially luxury hotels for different tastes so that it can meet the needs of a large number of tourists to stay in every year.
It is safe to say that the finest hotels with excellent accommodations are located in Shiraz, and most of them keep even hard to please customers satisfied.
Here are some of the best luxury hotels in Shiraz, along with practical information, services, and access routes.
If you want to stay in a hotel with original Iranian architecture, with magnificent rooms, located just behind Karim Khan citadel, Zandieh hotel can be a good choice.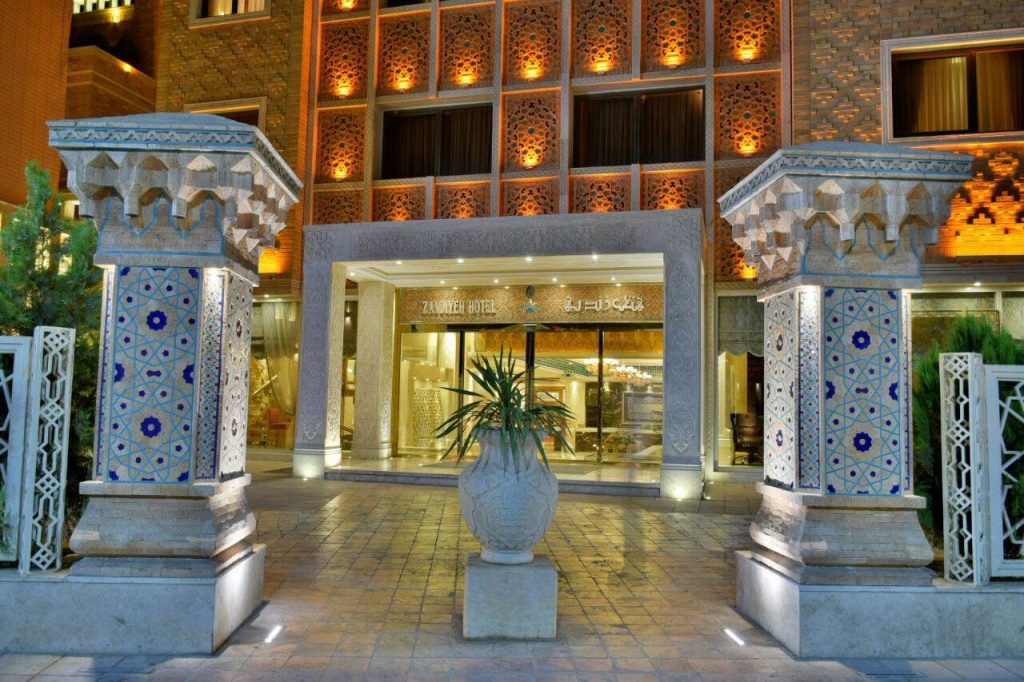 This five-star luxury hotel with original and traditional Iranian architecture was put into operation in 2015 in one of the best areas of Shiraz. The hotel has 3 floors and 75 accommodation units equipped with all facilities and amenities. This hotel is not far from the historical and cultural attractions of the city such as Karim Khan citadel and Pars museum.
Facilities
The traditional Iranian bath with impressive architecture is one of the most special services that guests of this hotel can benefit from. Gym, swimming pool, sauna, Jacuzzi, and Vitamin shop are available for hotel guests as well.
The hotel's swimming pool and sauna are built in the style of Vakil historic bath, and its sport complex, meeting hall, and various restaurants that serve a variety of Persian and French dishes are very popular.
Various traditional, Persian and western restaurants, traditional bazaars, commercial booths, coffee shop, conference hall, multi-purpose hall with the latest technology, travel agency, and handicraft gallery are other facilities of this hotel.
Zandiyeh hotel has a variety of rooms for different tastes. These include the business suite for those who have traveled to Shiraz for work. The honeymoon suite and the Zandieh suite are some other special accommodations here.
Zandiyeh hotel distance from the Vakil bath, Jahan Nama garden, tomb of Hafez, and Shah Cheragh tomb are respectfully 4, 7, 10, and 7 minutes by car.
Read more and book online: Homa Hotel
According to many travelers, the Grand hotel is one of the most comfortable in Shiraz and welcomes its guests in the best possible way. This five-star hotel is one of the most luxurious and popular hotels in Shiraz.
If you want to travel to Shiraz and spend the night in a comfy bed, in a perfect room with excellent service and feel loyalty, we recommend Shiraz Grand hotel, which has conveniently located near some tourist attractions of Shiraz such as the Quran Gate, the Khwaju Kermani tomb, the tomb of Baba Kuhi Shirazi, and Koohpaye park. Luna amusement park also has 10 minutes of access.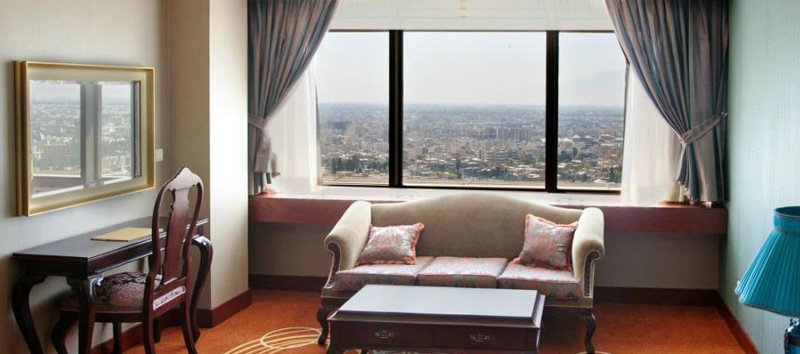 The distance from Shiraz Grand hotel to Hafezieh (tomb of Hafez) and Eram garden is 5 minutes and to Saadi tomb and Shah Cheragh tomb and Delgosha garden are 10 minutes by car. It is only a 10-minute walk from Jahan Nama garden. To get to Vakil Bazaar, you have to travel 13 minutes by car. The distance from the Grand hotel to Negin Fars shopping center is 25 minutes and it is possible to visit the tomb of Cyrus the great in 1 hour and 20 minutes by car.
This luxury hotel in Shiraz was put into operation in November 2013 with 40,000 square meters of infrastructure. This hotel is built on 14 floors in the northeastern mountains of Shiraz.
The grand hotel, known for its modern architecture and amenities, has facilities such as, men's and women's sports complex including ping pong tables, a volleyball court, swimming pool, and sauna.
Gym, swimming pool, dry sauna, steam sauna, and Jacuzzi are also among the recreational and sports facilities of the Shiraz Grand hotel. The hotel's sports suite is free of charge for guests at certain times of the day and breakfast at the hotel is also free.
The variety of rooms in this hotel is great and in addition to having double rooms, it has interconnected rooms (connected rooms) which are especially suitable for families, not to mention this is a very kid-friendly hotel too.
158 accommodation units along with Iranian restaurants, an Italian restaurant, a coffee shop, and a fast food place are among the facilities of the Shiraz Grand hotel.
The revolving restaurant is also one of the most attractive parts of this hotel. Shiraz Grand hotel has also meeting rooms to host a variety of events and ceremonies. You can have a nice view of the city from your own room. Internet access is available both in the lobby and in the hotel rooms. All in all, a luxury hotel that is perfect in every way and definitely worth a try.
Read more and book online: Pars International Hotel
This spectacular building is one of the newly opened luxury hotels in Shiraz that has grabbed the attention of a lot of people and had very positive feedback.
The most attractive aspect of this hotel is being built on a Qajar house (a house from the Qajar era after special designs and renovations.) Modern art and design have been used to decorate and beautify the rooms. This creative work has made the hotel an interesting and remarkable place to stay in Shiraz.
Darbe Shazdeh boutique hotel is located in the heart of Shiraz's Zand district, the old place of Zandieh kingdom, and reflects the city's rich cultural heritage and old architecture.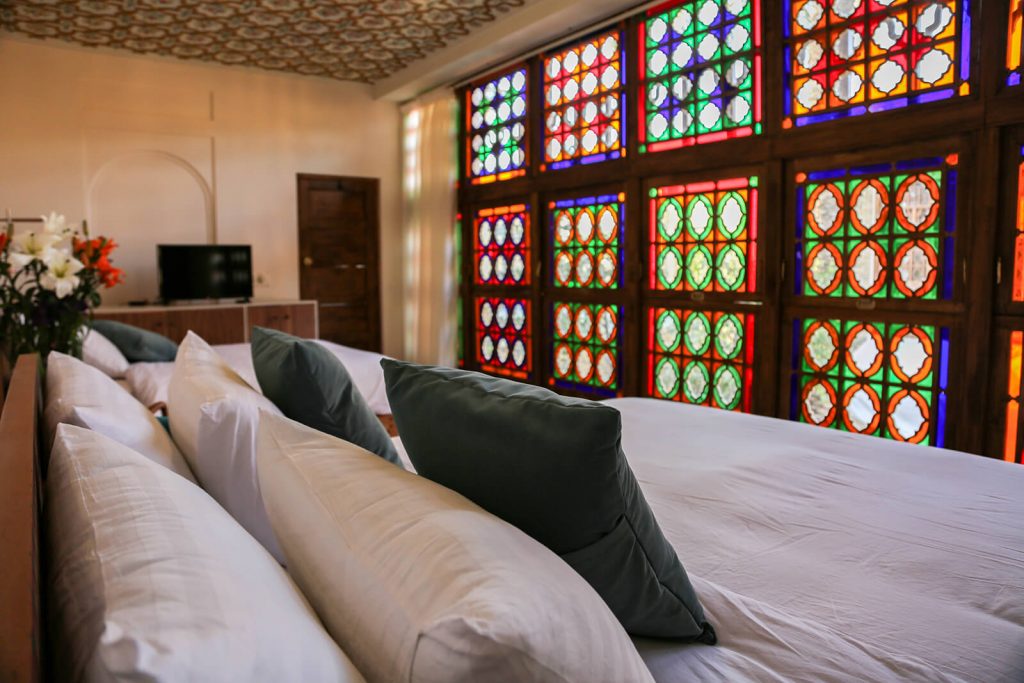 Its architecture is mixed with contemporary art and design, has introduced the beauty and warmth of Iranian houses to foreign tourists. Staying at this hotel is like an adventurous trip thorough history and is a reflection of a very rich culture. This special boutique hotel in Shiraz also has a small café, a private garden, and a traditional bath.
Darbe Shazdeh Boutique luxury hotel is not located far from historic attractions of Shiraz like Karim Khan citadel and Vakil Bazaar.
This hotel has eight rooms with 2, 3, and 4 beds.
Read more and book online: Vakil Hotel
Chamran grand hotel, a five-star hotel located in Chamran boulevard surrounded by the Ghasrodasht gardens in Shiraz, has a height of 109 meters and is the highest hotel tower in Iran. with a unique view over the city of Shiraz and the magnificent gardens around it, this establishment, creates a beautiful memory of staying in a calm and pleasant environment for you.
This 30-story luxury hotel is a unique and diverse complex consisting of 250 rooms and suites with pleasant views and distinctive facilities, along with a variety of Persian, traditional and Italian restaurants on the 24th and 25th floors of the hotel, coffee shop with enchanting atmosphere and live-music on the 23rd floor of the hotel.
To ensure the comfort of the guests, the departments of banking services, travel, and sightseeing services, beauty and sports halls along with, spa, swimming pool, sauna, and Jacuzzi and professional massage, as well as high-speed internet center to do commercial affairs, various types of multi-purpose reception halls for celebrations, conferences, and seminars, as well as photography studios, have been installed in different parts of this unique complex.
Read more and book online: Park Saadi Hotel
If you want to experience a memorable stay on your trip to Shiraz, we suggest you book a room at the Shirazi house boutique hotel.
Upon entering this historic house, you will see magnificent architecture that dates back to the Zand era and the early Qajar period.
You can book a residence in Shirazi house, and in addition to taking advantage of the spectacular architecture, see the unique decorations in the rooms of this residence. It shows unique features and interior designs of the skilled masters of Shiraz, in the old days.
Staying in this luxury hotel can be interesting for art lovers and history buffs.
It's good to know that this historic residence has long been used as a residential home by a family called the Leather Sales Family. Currently, this historical house is known as Shirazi House, which was renovated between 2016-2018.
Facilities:
Another feature of this traditional hotel is the facilities of the Shirazi House, which is intended for the comfort of hotel guests. Among these up-to-date and advanced facilities, we can mention the Wi-Fi Internet and parking.
Shirazi House Restaurant and Cafe are ready to receive guests for breakfast, lunch, and dinner with prior reservation. Breakfast is served in the guest's favorite public place.
Transfer services from the airport to the hotel and from the hotel to the airport are free of charge for guests. Guests can use the resort's Jacuzzi once during their stay.
The complex has five rooms respectfully called Toranj, Mogharnas, Tarb, and Sama, and all of them are decorated beautifully and have the capacity to receive ten guests.
Read more and book online: Shiraz Parsian Hotel
If you are one of those people who would like to stay in a cozy and pleasant place on your trip away from the hustle and bustle of the crowded downtown, In that case, we offer you Elysee hotel.
In 2017 Elysee hotel has been upgraded from a three-star hotel to a four-star hotel because of excellent service.
This luxury hotel is located in a relaxed and quiet place in Moali'Abad Blvd which is famous for good weather in Shiraz. You can have a nice walk on the boulevard at night and spend the day in the business centers near the hotel.
Elysee has 68 rooms with different areas but following international standards with modern architecture and decorations. single rooms, twin rooms, double rooms, and suite rooms are ready to reserve.
There is a 15-minute drive from the hotel to downtown and 25 minutes drive to Shiraz international airport. With only 10 minutes drive you can get to Shiraz international exhibition and it takes you only a 5-minute walk, to reach the subway. Elysee Hotel has also located in a short distance from the beautiful and religious village of Ghalat.
Two restaurants, one on the ground floor and another is on the roof of the hotel where cool winds blow in the middle of the night, makes the Elysee hotel a special place. The Marlin restaurant in the hotel serves delicious food and is open to the public. Elysee sports complex also includes massage services and spa, a swimming pool, sauna, and Jacuzzi.
Read more and book online: Aryo Barzan Hotel