Although the natural attractions of Isfahan are not much famous, compared to its historical sights, they still hold a high place among other interests of this city and they are extremely appealing in the eyes of nature lovers.
At first glance, it may seem that Isfahan province can not be introduced as one of the nature tourism destinations in Iran, but the presence of attractions such as deserts, salt lakes, waterfalls, and many others, will change your mindset about the nature of Isfahan.
Isfahan is one of the most important regions of Iran in terms of nature tourism potential and it is not easy to pass by its untouched beauties.
The following list introduces some of the top natural attractions of Isfahan and gives you tempting options for sightseeing here:
Deserts
Nature exploring is not limited to marine and forest areas; deserts and wilderness also have their own fans.
Desert is one of the most enchanting natural attractions that have a major part in the charm of nature. The quicksands, flora and fauna, the discovery of the unknown, and the difficulty of navigating the desert have brought plenty of activities along that are attractive for many adventurers.
Among all the deserts of Iran, Mers is well-known for its greatness, tranquility, intact dunes, and having suitable conditions for camel riding and safari.
Mesr desert has located 55 km from the city of Khor in the province of Isfahan and next to a village with the same name. To reach the desert, you have to pass through this village and past the old thatched houses. As you move away from the village, you will see a dirt-colored area covered with quicksand; Undoubtedly, for this reason, this amazing phenomenon of natural attraction in Isfahan has been named the Mesr (Egypt) desert.
Walking on soft sands, creative photography, stargazing, safaris, motorcycling, and camel riding are some of the activities you can experience in the Egyptian desert and spend extremely exciting days there.
In addition to desert hiking and recreational experience in this area, we suggest you go around and visit the beauties of Namak Khor lake, Takht-e Abbasi, Takht-e-Arus, Mesr reed bed, and Tal-e Khakestari hill.
Maranjab is one of the most popular and best natural attractions in Iran, this glamorous desert is in the city of Aran and Bidgol in Isfahan province.
The name of Maranjab desert was chosen by Shah Abbas Safavid (ruler of the time), in a long time ago digging wells and qanats and reaching freshwater in this desert was very difficult, that is why they called it "Mard Ranj Ab" means "a man struggling to find water" which turned to Marnjab over time.
Watching the sunrise and sunset on the endless horizon, spending the night by the fire, being together under the sky, walking on the warm and soft sands, walking on the salt lake, all in all, add to the charm of Marnjab desert.
The altitude of Marnjab is about 850 meters above sea level, it is located on the Silk Road and has tourism sights such as Caravanserai, Namak Khor salt lake, Chah Dastkan (drinking fountain), dunes and wandering island.
Abouzeidabad Desert
Abu Zidabad desert is a very spectacular attraction of Isfahan province. This special and extraordinary Desert has both natural attractions and exciting historical sights and was originally part of the Rig desert.
Abouzeidabad in the villages of Aran and Bidgol in Kashan recently has received a lot of attention due to its mysterious history, its tranquility, and eye-catching dunes.
If you are looking to stay in the desert, Abouzeidabad Caravanserai is one of the few historical residences left in Iran that can be a good choice for you.
This campsite, which is still being used by travelers, is 400 years old and was built during the Safavid period (Dynasty Era).
Another attraction of this desert is the 1500-year-old underground city of Nushabad, which belongs to the Sassanid period (Dynasty era) and is the oldest underground city in the world.
This city is completely hand-built and is very famous for its role in saving people's lives and defending the city. It has a complex and dense structure with narrow and nested corridors.
It is interesting to know that this city was accidentally discovered in 2006 by a person who intended to dig a well in his house, and that year it was included in the list of national sites.
Varzaneh desert is 100 km away from Isfahan and its dunes are about 17,000 hectares. Various shapes of dunes formed by wind erosion have formed one of the most fascinating pictures of nature in Varzaneh desert.
Tourists camp in this desert, staying overnight, and night photography and experience the silence of the desert, relaxing in nature free from human manipulation, and the excitement of seeing the most magnificent night sky will be a spiritual souvenir of your trip to Varzaneh.
Camel riding, sand riding, four-wheeled car, buggy riding; Off-road riding, zip line, and paragliding are some of the entertainment and facilities located in this place.
Read more: Walking in the Zagros Mountains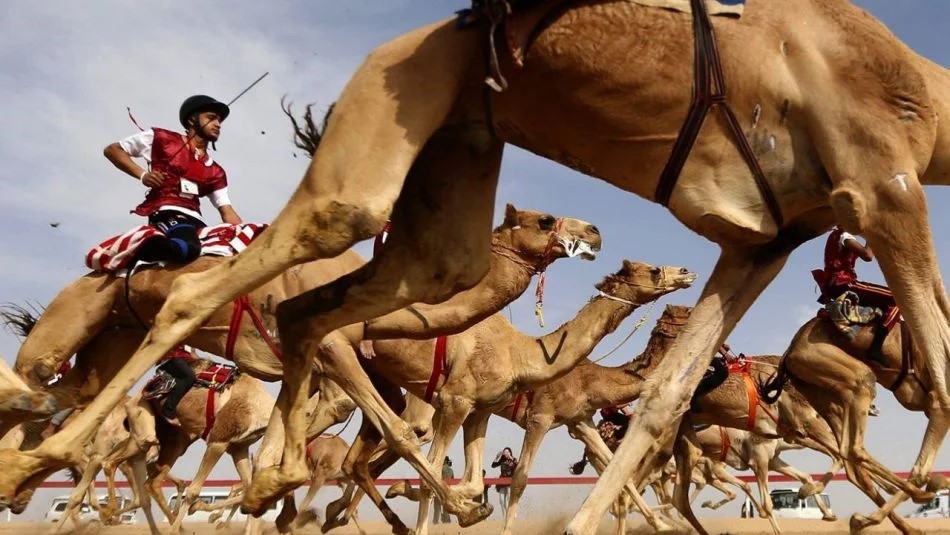 Waterfalls
You may be interested to know that in Isfahan, as much as you can enjoy the wonders of the desert, waterfalls also appear around this city and they are among the main natural attractions.
Ab Malakh Waterfall (Takht-e-Soleiman)
You certainly can not expect waterfalls inside Isfahan, so to visit each one you should get a little distance from the city and go to the mountainous and summer areas.
Ab Malakh waterfall (also called Takht-e-Soleiman) is one of the most popular natural attractions of Isfahan. To enjoy this fabulous waterfall with a height of 50 meters, you have to go to 60 kilometers of Semirom county.
This waterfall has a fountain source plus 2 arches covered with grass which make it very delightful.
The water of the Ab Malakh waterfall is also a pure natural pesticide to kill locusts.
King Lvlak Waterfall
King Lvlak Waterfall in 5 km south of Chermahin city, in Lenjan county of Isfahan province, with a height of 70 meters is located in a mountain of the same name in the central Zagros.
A roaring spring has started from inside the high wall of the mountain with a negative slope, which makes this waterfall unique because most of Iran's waterfalls flow like a river from the surface.
This waterfall is one of the permanent waterfalls of Isfahan province, but its flow rate varies throughout the year and in winter, it is completely frozen and forms gorgeous icy candles with 70 meters high.
In the spring, another branch of King Lvlak waterfall starts flowing, which is about 90 meters high and has roaring water, and locals call it Holuki waterfall.
The place where the waterfall fell called the pond and the remains of an old pond in the form of large boulders engraved with Persian inscription are visible in it.
Read more: Things to Do in Isfahan for History Buffs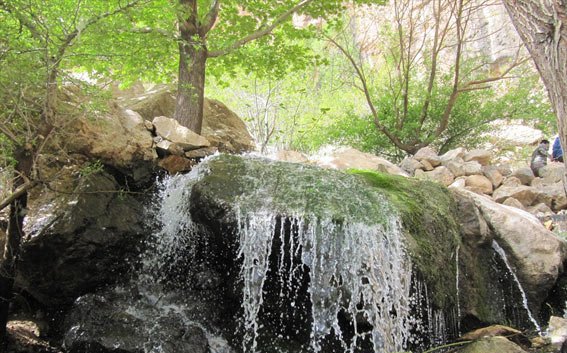 Namak Khor Lake
Namak Khor lake with an area of ​​2000 km, the largest seasonal salt lake in Iran, has an altitude of 707 meters above sea level and is one of the lowest points of the Iranian plateau.
Namak Khor lake located 40 km from Khor and Biabank cities in Isfahan province. This amazing natural attraction, also known as the Mesr desert lake, is also one of the most important sources of mineral Potash in the world.
In recent years, with the growth of the ecotourism industry, the southern parts of the lake have been visited by nature-lovers.
It may be interesting to know that there are black salts under the lake which are created by the absorption of infrared rays of the sun; The lake has a hot and dry climate and its rainfall is about 20 mm per year.
Another thrilling feature of this salt lake is the surface, covered by polygons, geometric shapes look like beehives. The reason for these formations is the large temperature difference between day and night in this area, which leads to the breaking of the surface salt layer, and the wet underlying layers lose their moisture from the created fractures, which causes polygons or salt platforms.
Caves
Caving, also known as spelunking, is another option that nature lovers can choose in Isfahan, and in the cities around, two beautiful caves have attracted many tourists.
Ghar-e-Pariyan Cave
Ghar-e-Pariyan (fairy cave), located 8 km from Abyaneh tourist village, is an untouched and somehow mysterious natural attraction in Isfahan. This cave was discovered in 2000 and to this day, cavers still make discoveries here.
Isfahan caving groups in their latest excavation have found a hall at a depth of 120 meters in the Ghar-e-Pariyan cave. So far, the number of halls discovered in this cave has reached 11.
Due to the existence of dangerous wells in this cave, its navigation requires familiarity with caving techniques, and without having the necessary tools, instructions, and a complete map of the cave, it is not possible to visit it.
Fereydoun Cave
18 km west of Peykan village of Isfahan, there is a cave in the mountains of that region, which people call Fereydoun cave, and they believe, Fereydoun Pishdadi (an Iranian mythical king and hero from the Pishdadian dynasty, named in Ferdowsi's Shahnameh, Persian epic poem book) was hidden in the mountains from his enemies.
Inside the cave, a tunnel was dug by the ancient people, which is difficult to dig even with modern tools. Getting inside this cave without ropes and mountaineering tools is not possible and those who want to visit the cave must have mountain climbing equipment.
Read More: Best Recommended Natural Attractions in Shiraz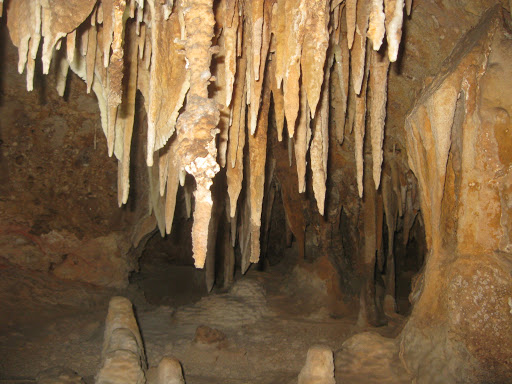 Gavkhuni Wetland
Gavkhoni wetland (sometimes called Gavkhoni swamp) is a well-known international tourist area, located 167 km southeast of Isfahan, next to the dunes and the city of Varzaneh.
This wetland is located at the end of Zayandeh Rud, Zar Cheshmeh, and Izadkhast rivers, the main source of which is Zayandeh Rud, one of the most significant rivers of the inland plateau of Iran.
The environment around the lagoon has special and different features. The beginning of the wetland is covered with reeds and dense groves. The estuary is located in the northern and northwestern parts of the wetland, full of green algae and the movement of water in this area is slow.
On the southern edge of the wetland, there is a large salt lake, formed due to the high evaporation of water and the accumulation of salt crystals.
windy dunes stand in the west and southwest of Gavkhoni that have created an ecosystem different from the wetland and its estuary.