As first travelers, there are some tips on Shiraz sightseeing, souvenir shopping, staying the night, and other activities you should know!
Shiraz is the city of poetry and literature, the capital of Iranian culture and civilization, and one of the most important tourist hubs in the world that has fascinated many visitors over the years.
Shiraz, the capital of Fars province, is one of the most beautiful and oldest cities in Iran. Numerous historical and natural attractions have made this city one of the favorite destinations for domestic and foreign tourists and encourage every traveler to come back to this mysterious land.
Iranian gardens and historical sites with original architecture and extraordinary weather with the scent of orange blossoms, all of them would join hands to manufacture a memorable trip for you.
Before you start your trip, it's a good idea to know a few quick tips on Shiraz.
May, The Best Time to Visit Shiraz
Shiraz is located in the central part of Fars province, in the Zagros Mountains, and has a relatively mild climate.
The natural ecosystem of this city has caused Shiraz to have a varied climate in different places.
July, with an average temperature of 30 degrees Celsius, is the hottest month of the year, and January, with an average temperature of 5 degrees Celsius, is the coldest month of the year in Shiraz.
Spring (March to May) is the best time to visit Shiraz; May makes a small paradise from Shiraz. Also, May 4 has been named Shiraz day.
On the other hand, don't forget that the city is also attractive in winter. Because it is more secluded and more or less has good weather. Most importantly, it saves money because both tours and plane tickets can be purchased at a better price.
Tourist Attractions in Shiraz
We suggest that you spend the morning out of town and go back in time to ancient Iran and its great empire, by visiting the ruins of Persepolis and Pasargadae.
Some tips on Shiraz sightseeing; since you will spend most of the day under the hot sun of Fars province, be sure to bring sunglasses, sunscreen, a hat, and, of course, plenty of water and snacks.
Our suggestion for the afternoon is to visit the historical monument of Karim Khan Citadel, which is a remembrance of Zandieh's time (dynasty era). Once a prison, it is now a magnificent historic building with a lovely courtyard full of citrus trees and a central pool.
Visiting the lush gardens of Shiraz with tall trees, and beautiful and colorful flowers, such as Eram garden, Jahan Nama Garden, and Narenjestan Qavam can also be a remarkable experiment for peaceful souls.
For your night adventure, visit the tomb of Hafez and the tomb of Saadi. Iranians of all ethnicities are fascinated by these two great poets.
Hafez's tomb is always full of foreign and domestic tourists who have traveled to Shiraz to pay their respects to this great scholar.
Saadi's tomb is a little more secluded at sunset and brings a certain calm.
Shiraz has endless tourist attractions and it is up to you whether you choose your trip to be full of excitement or a mystical and peaceful one.
Read more: Best places to visit in Shiraz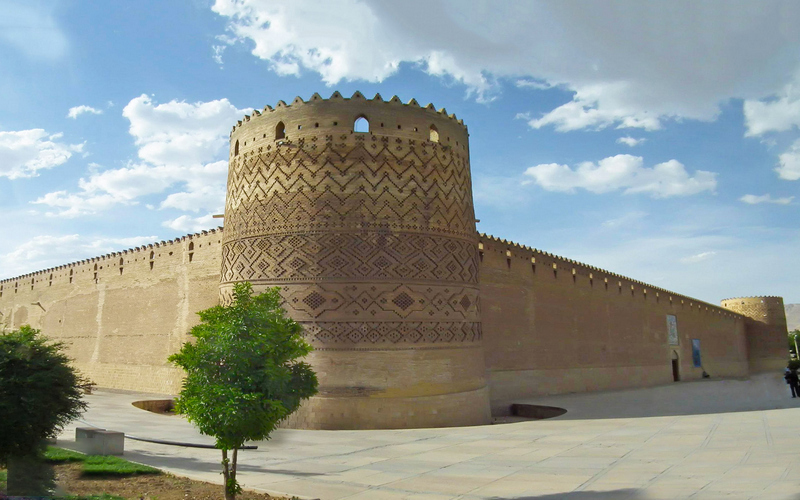 Tips on sights around Shiraz
If you want to go out of Shiraz for one day and put yourself in the heart of nature, there are plenty of choices.
Ghalat village is 2,500 years old and is located 36 km from Shiraz and Sepidan – Shiraz Expy. Orchards of fruit trees such as walnuts, almonds, grapes, figs, pomegranates, apricots, plums, and dairy products such as milk, cheese, butter, and curd bring you a pleasant rural atmosphere. The best time to go to Ghalat is spring and summer.
Our other offers are Margoon Waterfall in the west of Sepidan city and the beautiful and spectacular Dom-e asb Canyon, 50 km south of Shiraz, with its beauty and stunning nature.
Buy Souvenirs in Shiraz
Familiarity with shopping centers in Shiraz is another important matter to consider before starting your trip.
Shiraz does not have a shortage in terms of numbers and quality shopping centers. There are many shopping malls and bazaars in the city. If you are planning to buy traditional and cultural souvenirs, we suggest the Persian handicrafts with worldwide reputations like Khatam, Moaragh, and Monabat, silverwork, and toreutics on dishes, precious gemstones, Gabbeh, and so on.
Masghati, Kaak, candied almonds, Shirazi cookies, and herbal distillate, verjuice, and specially Faloodeh are some of the most famous edible souvenirs in Shiraz, which are very popular in the whole country and beyond.
Read more: The Top 10 Best Places for Shopping in Shiraz
Where to Stay in Shiraz
People of Shiraz are very warm-hearted. Every year, many domestic and foreign tourists travel to this city, and perhaps that is why hospitality has become a part of these lovable people's life.
Shiraz has numerous hotels and guesthouses for many tourists who visit the city. In Shiraz, hotels are available in different price ranges and qualities.
Read more: Luxury Hotels To Stay In Shiraz For Picky Folks
Some hotels are more economical and more affordable. You can choose to stay in a luxury hotel with excellent quality and comfort, or spend the night in a quality hotel with fewer facilities but at a more reasonable price.
Most hotels are located in downtown, in the area of Zand and Rudaki streets. By staying there, you will have a better chance of easier access to the city's historical sites.
Easy transportation with low cost, is another aspect of the city of Shiraz, and a variety of public transports, including subway, buses, and taxis, are available for travelers. Shiraz Metro is open every day from 6 am to 10 pm. The whole city is also equipped with bus transport coverage. The other good news is that you can also use online taxi software in this city.
Read more: Best Cheap Hotels In Shiraz For Backpackers And Young Travelers
Where to Eat, Tips on Shiraz Famous Dishes
We highly recommend you to go for a traditional dinner or lunch on your trip to Shiraz. It is safe to say that the people of Shiraz cook a lot of delicious meals that are unparalleled in the world, so foody people should not lose the excitement of tasting a very vast local cuisine.
There are unique restaurants and cafes all over the city of Shiraz with delicious foods and a pleasant atmosphere.
Shirazi Kalam Polo (meaning cabbage-rice), Shirazi Polo, Aloo Do Pyaza, Shirazi Koofteh, Eshkeneh Shirazi are some of our highly recommended suggestions.
Read More: 10 Absolute Best Restaurants in Shiraz