Qeshm, Iran's largest island, is located in the Strait of Hormuz. The island is one of the most popular tourist destinations in Iran, with an area of 1,500 square kilometers. The unique natural features of the island, along with other tourist attractions and shopping malls, have led many people to choose this destination when traveling to Iran. If you are looking for unique souvenirs from Qeshm, join us at Apochi to learn more about 8 unique souvenirs of this city that you can find in markets and shops.
1. Traditional Rugs and Embroidery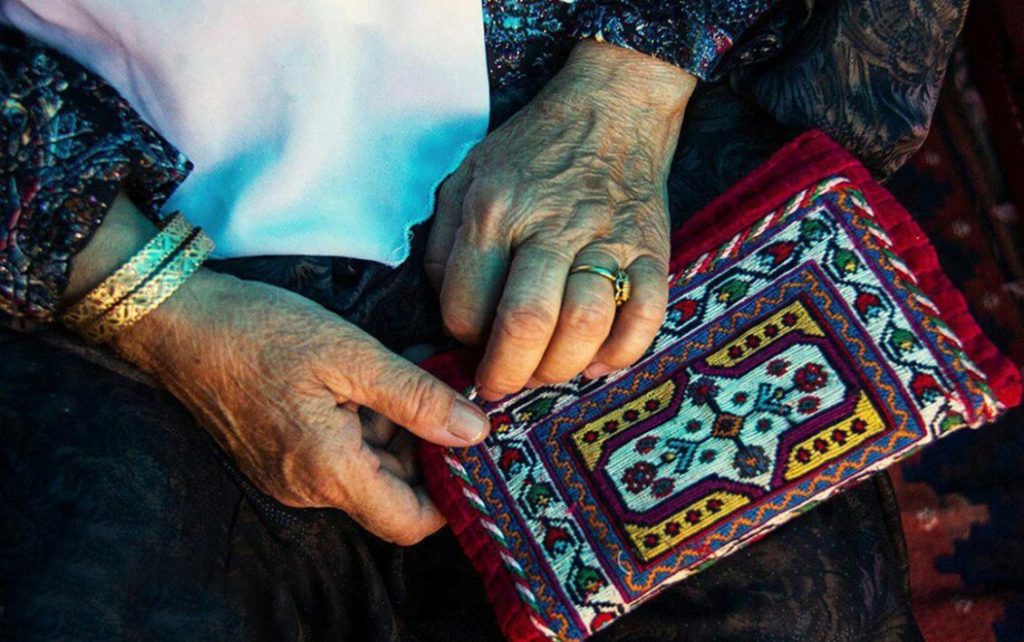 One of the best souvenirs you can buy while traveling is the handicrafts of the area you are visiting. Buying handicrafts boosts production and creates jobs for many of the locals. One of the most important and valuable attractions of Qeshm is the handicrafts of local women and girls. Knitting, embroidery, and ribbon weaving are traditions that has existed in this region for a long time and still retains its beauty and originality. Types of decorative tapestry, embroidery and needlework, limited production of Oud as a traditional instrument, macrame, and weaving are just some of the art in the region. Today, new disciplines such as carpet weaving, kilim weaving, painting, mat and basket weaving, and various types of ornaments are trendy among Qeshm handicrafts.
2. Wicker crafts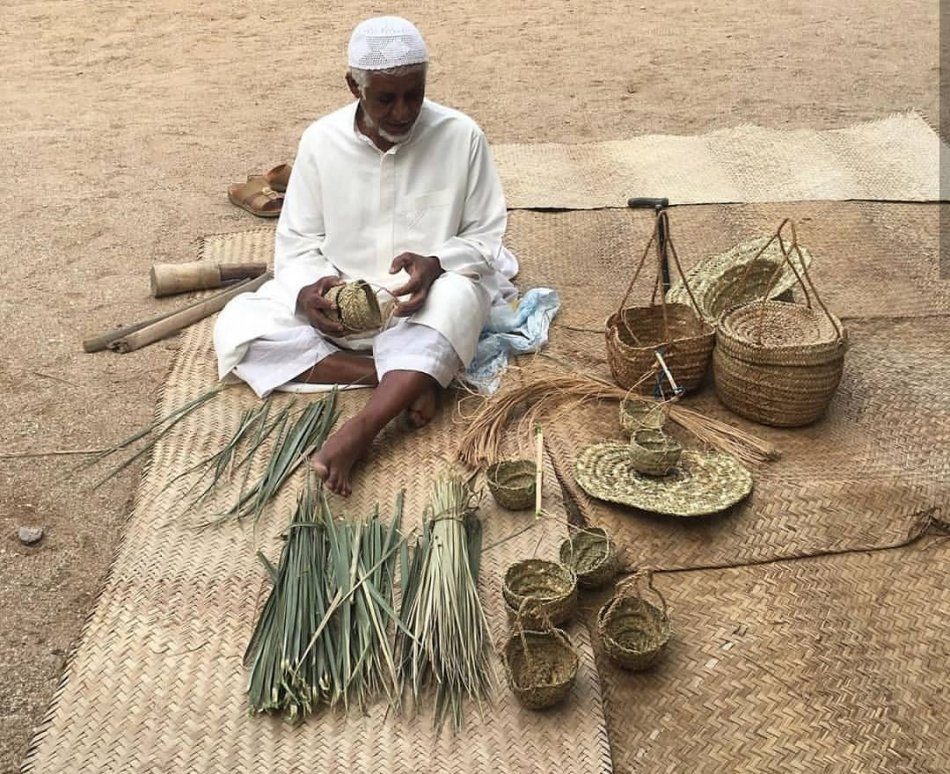 You can see wicker handicrafts throughout Hormozgan province. Among them, a kind of underlay called "Tak", jar lids, a kind of round and large tray called "Sep", wicker vases, fruit bowls, and bread containers can be mentioned.
Wicker weaving can be called as one of the most common and unique souvenirs from Qeshm and Hormozgan province in total. This is due to the fact that the raw material needed for mat weaving is leaves of palm trees. These raw materials are abundantly available to artists, and the production of a variety of wicker products – that are quite consumer-friendly – is common in the province.
3. Tomoshi and other local bread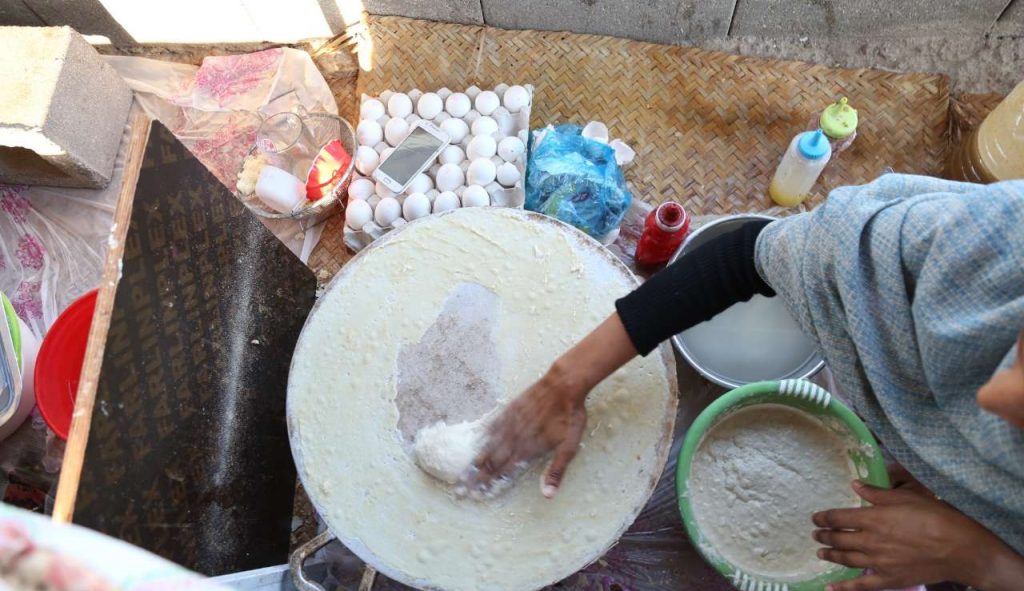 In Qeshm, more than 20 types of local bread exits, and one of the most famous ones is Tomoshi bread. Tomoshi bread includes a simple mix of flour and water by hand and spread thinly over a pan. Then cheese or eggs are added on top of it and when the bread is ready, it is served with a fish sauce made with salted fish water, mustard, coriander, and fennel. Other delicious types of local bread in Qeshm include 'Rakhne' bread, 'Khamir' bread, and 'Balataweh' bread. If you want to be more familiar with local food in Qeshm, read: Qeshm for Foodies | 10 Best Local Food in Qeshm
4. Spices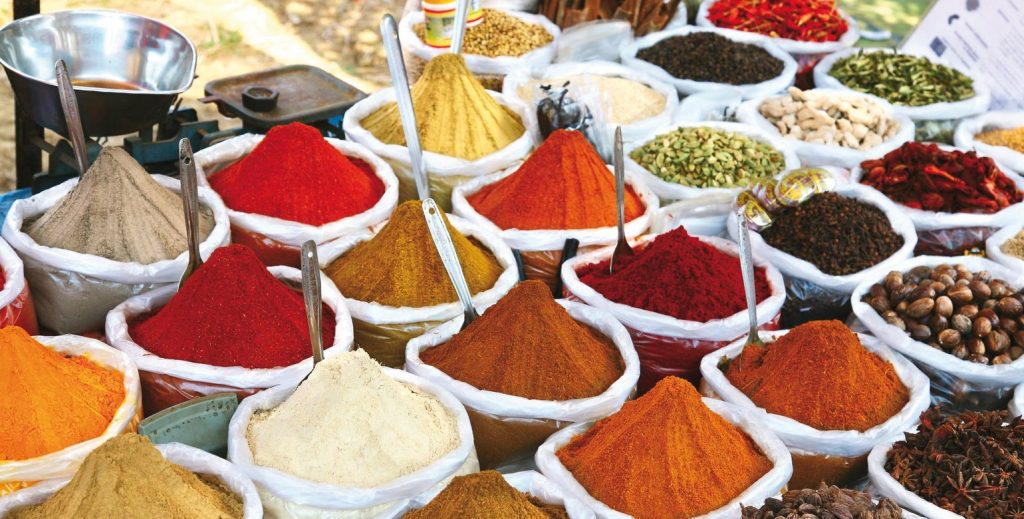 The number four on the list of Unique Souvenirs From Qeshm is of course spices. South of Iran is famous for spicey food that includes specific spices of the region. If you are a fan of special food and spices, if you are a fan of hot food, you can buy the best spices in the world at reasonable prices during your trip to Qeshm. Spices that you can only find in the markets of India and East Asia are not only suitable for personal consumption but also as souvenirs for your loved ones.
5. Local and traditional clothing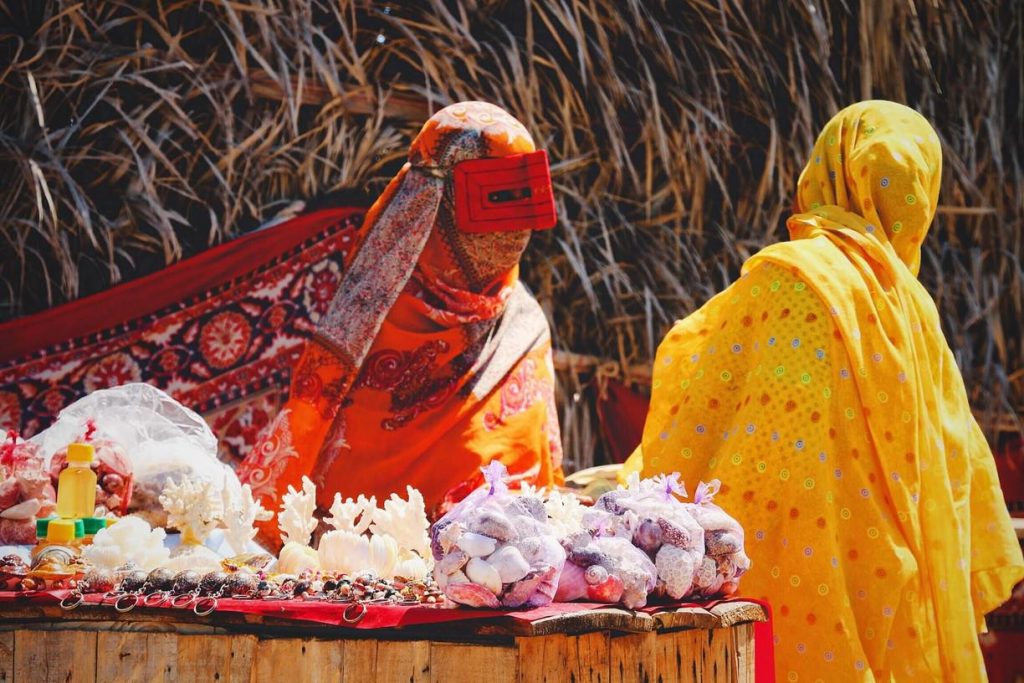 If you travel to Qeshm during the hot seasons, do not doubt that wearing the local and traditional clothes in this area will make you feel very good. Because in that heat, it gives you a special freshness and coolness, but regardless of the season, when traveling to Qeshm, you can buy and wear these clothes and even bring them back as souvenirs. Cotton clothes are not very expensive and are very suitable for comfort at home. You can search for and find these clothes in different markets in the city. Have a limited amount of time in Qeshm? Read our guide to Top 5 Things to Do in Qeshm in 2 Days
6. Marine handicrafts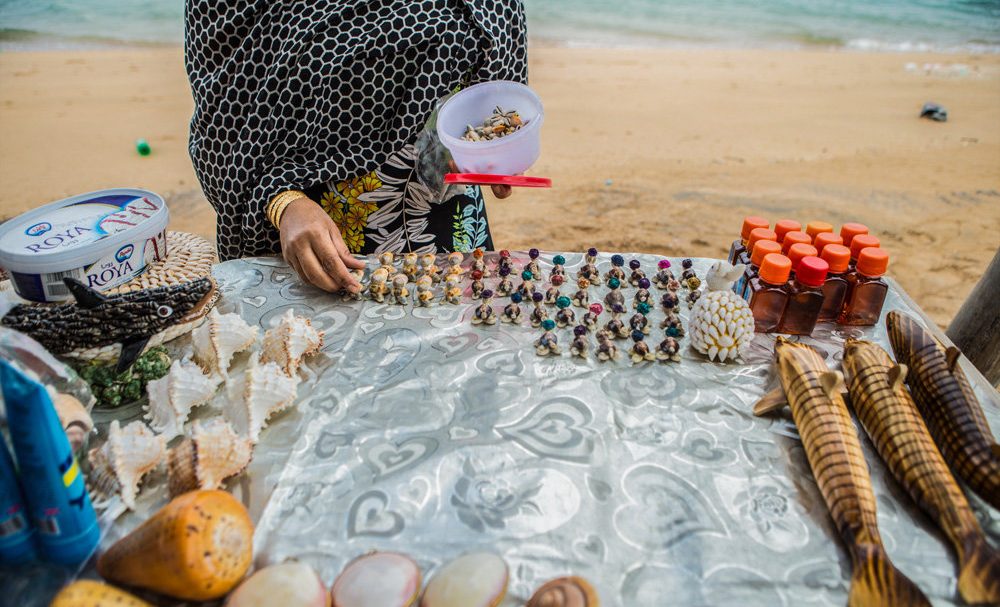 During the tides of the sea, a large amount of seashells, snails, and aquatic remains of the Persian Gulf flows on the shores of the numerous islands -Kish, Abu Musa, Lark, Qeshm Hormoz, etc.. Local artists collect them and use them to make a variety of art, pendants, curtains, sculptures, and many other objects. The raw materials used include the shells of snails, seashells, fish bones, and coral; colorless glue beautifully connects the parts to create some of the most unique souvenirs from Qeshm. Still not convinced to visit Qeshm? Why Visit Qeshm? | 7 Reasons That Will Convince You
7. Heller Cake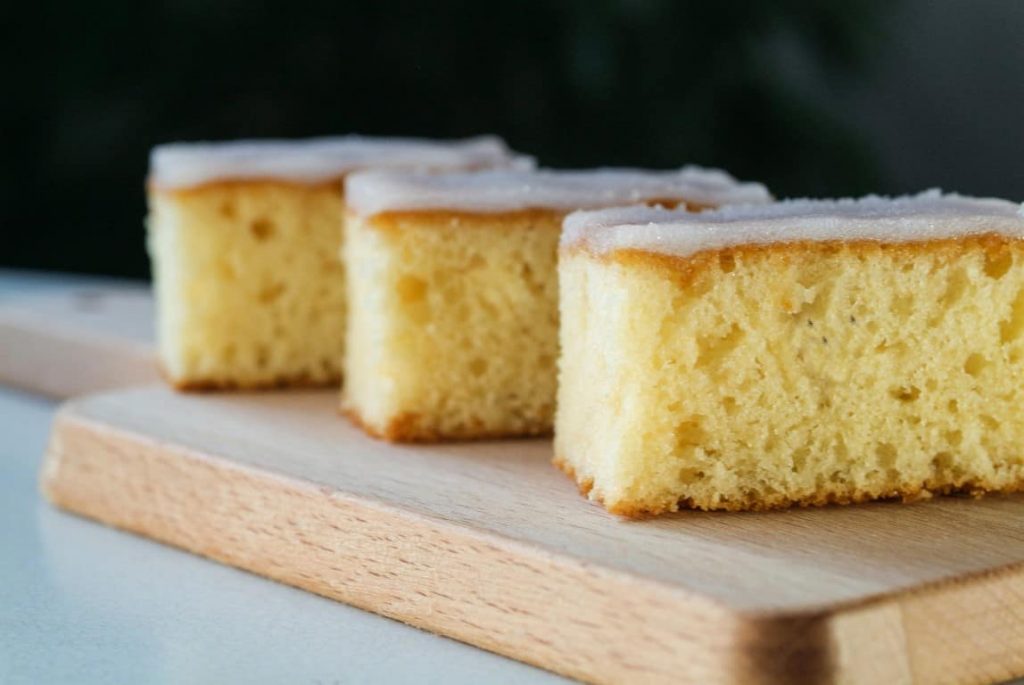 Heller village is located 18 km from Qeshm. The village has two confectionery and pastry shops, where several local pastries are made. One of these confections is called the Heller cake. Heller cake is a sponge cake made from a combination of flour, egg yolk, sugar, and vanilla. In Qeshm, most pastry shops sell Heller cakes. Since you can not find this cake anywhere else in the world, it is one of the most unique souvenirs from Qeshm.
8. Dates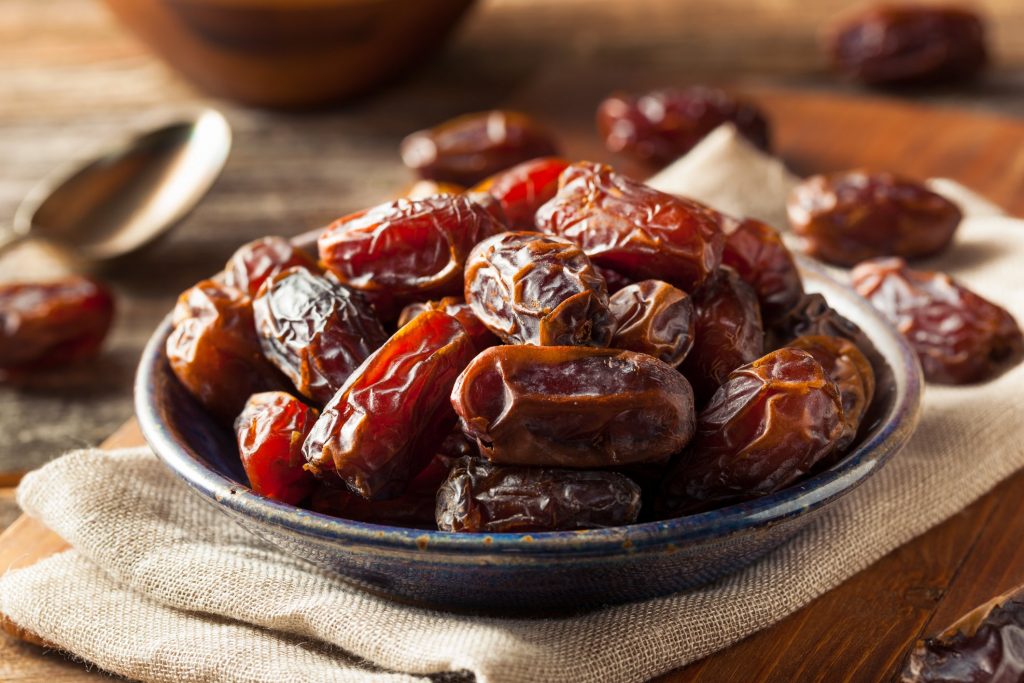 Dates are the most famous and best souvenir in the south of Iran. This fruit that is sweeter and less harmful than sugar is the best souvenir for both you and your loved ones when traveling to the south of Iran. You can buy both high-quality dates and their products, such as a variety of natural syrups, at reasonable prices.