It was the beginning of 17th century when tea houses in Iran came into existence, before this time as Iranian houses have two parts which are interior and exterior, all of gentlemen guests expect very close relatives had been met at the exterior part likewise ladies at the interior part. These exterior parts belonged to gentlemen to speak freely from time to time about everything with their relatives or at last those who they were familiar with but not strangers. Guests had been treated by tea, herbal tea, dessert or a light meal, sometimes launch and dinner. The idea of coffee or tea houses spread from Arab countries that became very popular in Iran. The first tea house in Iran opened in Qazvin in the mid 16h century and stream of others in the capital city of Safavid dynasty which was Isfahan. In 1598 as Isfahan chose as the capital city, King Abbas instead of the old popular square which was in the older part of the city, ordered to build a new one that right now in Naghsh-e-Jahan (literally means the design of the world) square.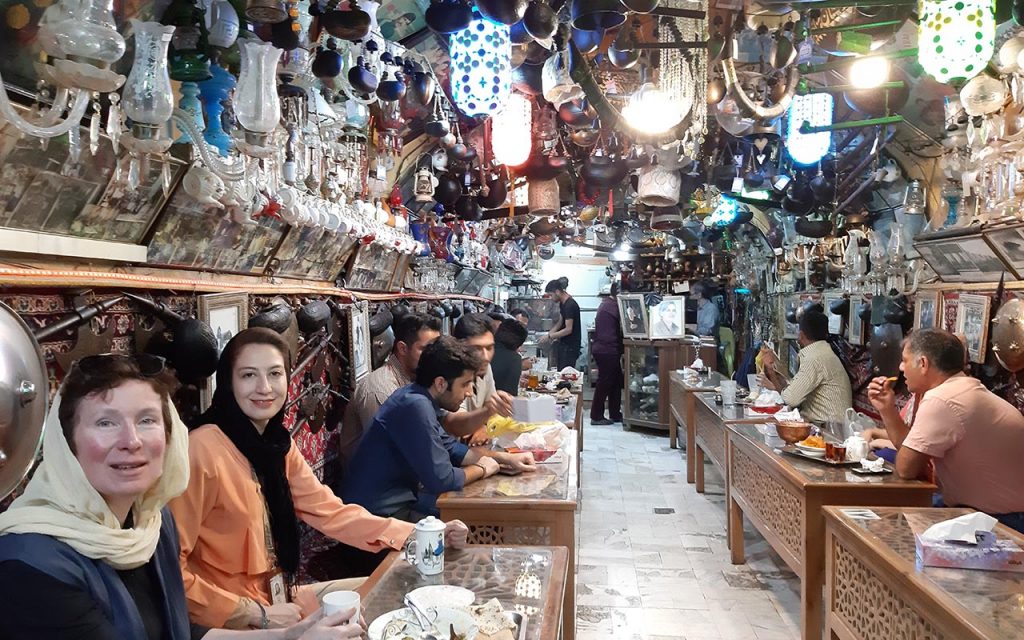 As Isfahan was the capital city during 10 and 11 centuries, king Abbas first didn't like any connection to the previous centuries power, he demands something new which represents his personality. He ordered to design a new square with all facilities required like a new Jame mosque (right now named Imam mosque or previously Shah mosque), an administrative palace (Ali Ghapo palace), a private royal mosque (Sheikh Lotfollah) and Grand Bazar. Bazar in Iran acts as the soul of tradition, it's not just for economical reasons, it covers all aspects of culture, that's why it consists: caravanserai (old fashioned hotels), bathhouse, schools, theological schools, restaurants, mosques, and the new idea of tea houses.
Tea houses were new places in this new square, people could gather together not in the closed area of their own houses with known people but they could sit next to strangers or foreigners, they were able to hear new information, beliefs, places, and experiences of other people. They would have seen new faces, have listened to new songs of different languages and have thought of travel to the other part of the world. Slowly Iranian tradition of singing folkloric songs, religious songs, poems of famous poets, playing chess, and other Iranian games cling to the acts of tea houses. Mostly besides tea or coffee different herbal teas, Iranian desserts, Iranian soups like Ash and Halim, light meal, or even some famous special meals of a city added to the menu of these tea houses.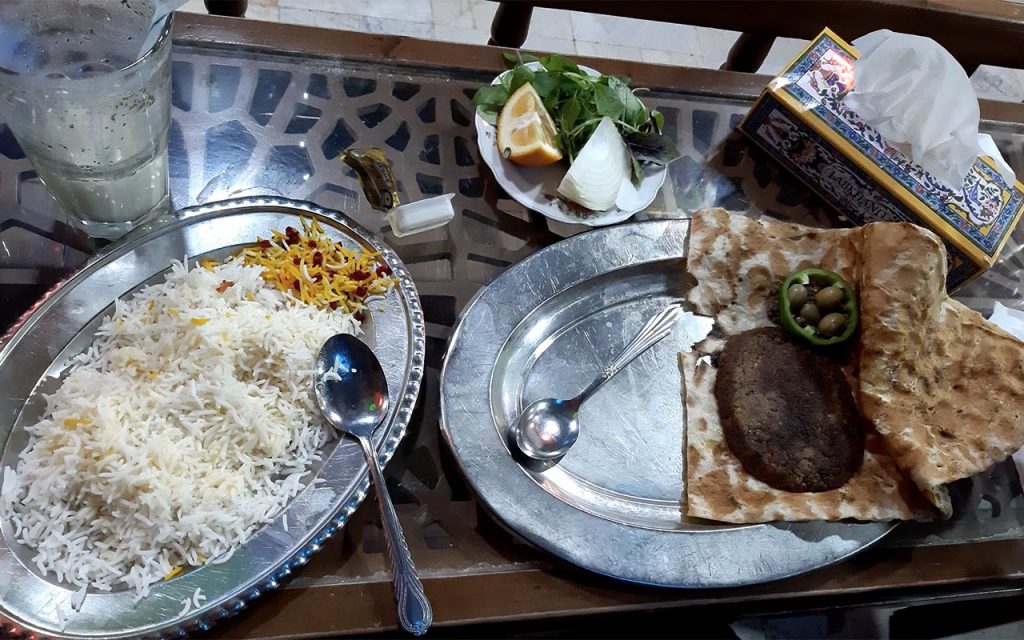 Azadegan or Haj Mirza tea house is the only reminiscent of these kinds of tea houses which is as old as the square. It was a Khaste Khane means a place for tired people, which drastically the name and the function are like each other, for example, today's after visiting different sightseeing in the square, one needs a cozy place for rest but in the past, as the tea house is located toward the east of the square it was a place for tired people who came from long distance, it was close to the public entrance of the square. What makes this tea house special is all the old objects from 4 hundred years ago up to know, most of them are gifts of people, it's like a museum or an antique shop. One may find all objects like pots, swords, hats, books, pictures, wine containers, cups, etc. on the walls of this place, everywhere is covered by these objects. The recent owner of this tea house inherited it, it's a family job for them from 4 hundred years ago up to now.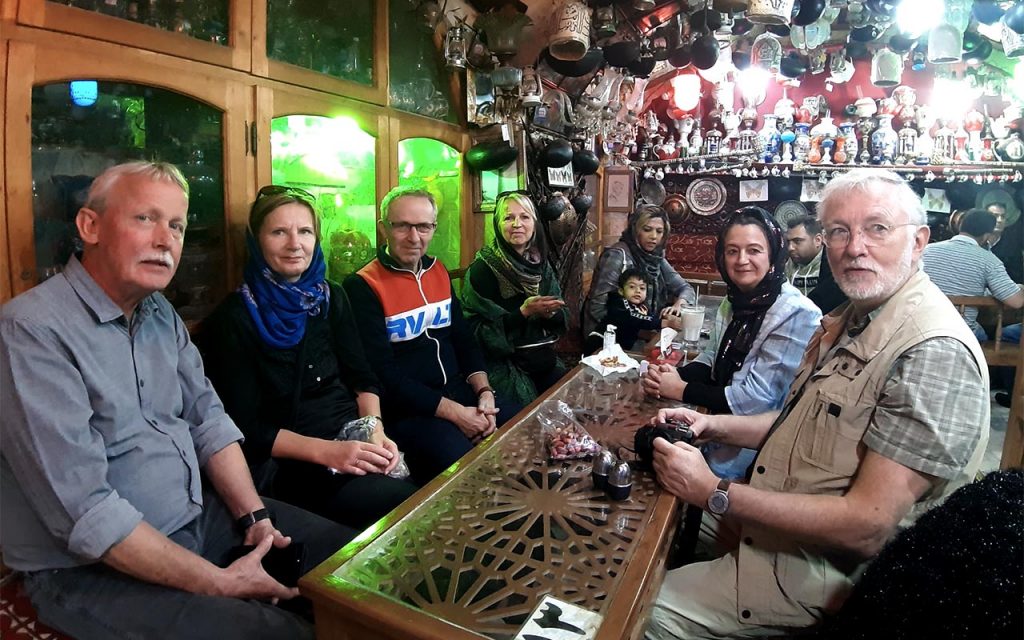 One can find all types of coffees, herbal teas, ice creams, juices here. It has all three meals of the day and coffee shop menu together. It serves for lunch and dinner, Beryan (Isfahani traditional meal), chicken kebab, Dizi (Iranian traditional meal), Kashke Bademjan (some kind of eggplant stew for vegetarians). Also one can experience the Isfahani tradition of Dogh and Goshfill, Dogh is a sour liquid mixture of yogurt, water, and dried herbs, and Goshfill (literally means elephants ear) is a type of soft, oily candy.
Attractions near by Azadegan or Haj Mirza tea house
When one cheered up, can continue visiting Grand Bazar, royal oil extractor, and do a walking tour from Naghsh-e-Jahan square to Imam Ali square through Bazar. If got tired can stay at Isfahan Hasht Behesht Hotel, Setareh hotel, and Keryas Traditional hotel.