Takie Biglar Beigi is masterpices of connection between architecture & mirror work.
Architecture of Takie Biglar Beigi
Takie Biglar Beigi or Farrash Bashi mansion is one of the oldest houses in Kermanshah, It has been the residential house of Abdullah Khan Farrash Bashi, his brothers and his sons which after a while he decided to turn one of its facets into a Hosseiniyah for mourning in the month of Muharram for the third Shia Imam.
Years later, geometric designs, plastering and mirror work were added to this building.This building is one of the masterpieces of mirror work in Iran, and according to the restoration of the mirror work, it has different pattern in mirror work that cannot be compared with any other building in Iran.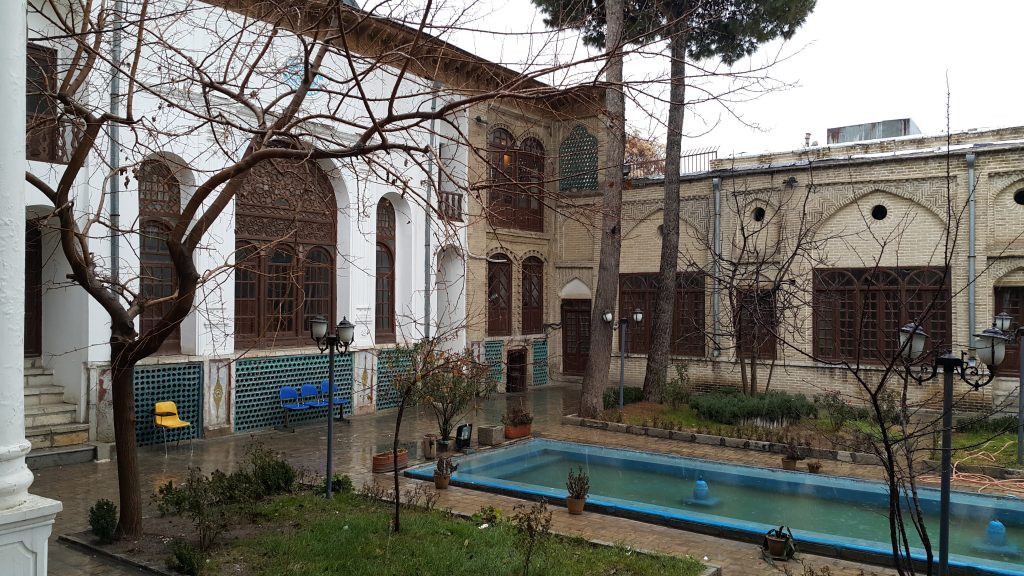 Takie Biglar Beigi had three entrances, but now only one of it's doors can be used for visiting. A door on Modares Street next to the old traditional Bazar. At the entrance of the previous door of this building, which was inside the alley, there are arched facades decorated with bedding, brickwork, and muqarnas, which are considered as Iranian decorative arrays that attracts everybody's attention. The doors that open to the courtyard are made of colorful glass that fits the cold weather of Kermanshah.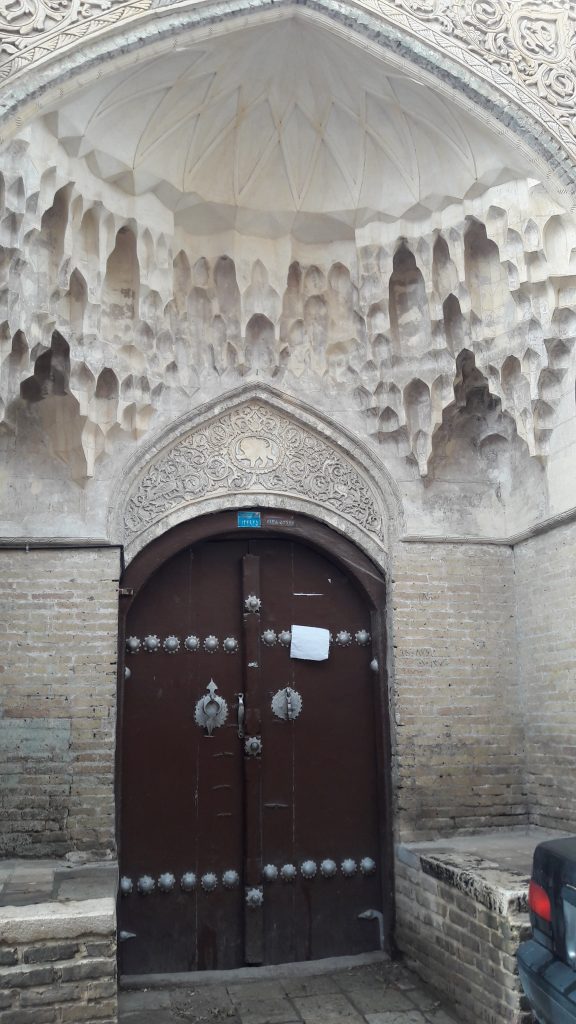 The interior ceiling of the western side of mansion is covered by a dome-shaped, and covered by beautiful gable-shaped in its exterior. The indoor of the roof is decorated with mirror work and numerous inscriptions religious words such as Allah(God), Prophet Muhammad and Imam Ali are written on it. Other details and decorations of this space are plastering columns which they are engraved with geometric designs and plant motifs. The stem of this column has beautiful decorations and headstones of the Byzantine type, which are decorated with floral and plant motifs. The building has 24 rooms and 16 niches in each room that used in a different way for showing different decorative things.
Activity of Takie Biglar Beigi
There is many uses in this mansion, in addition to the main building and Hosseinieh and yard, includes: two parts of this mansion have been turned into museums. Calligraphy & Paleolithic museums and the office of the Kermanshah Tourist Guides Association & a attractive traditional Sharbatkhane.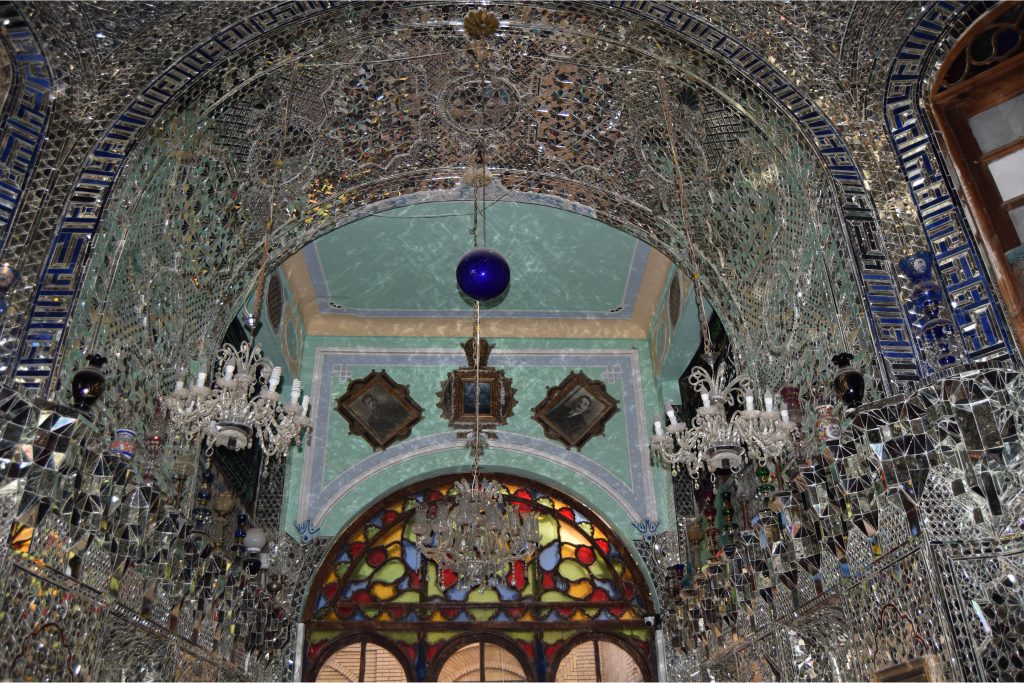 One of the museums is on the northern side of this mansion. the Museum of Calligraphy and hand-Writing which is an old manuscript and book in and there are valuable ancient documents of Bigli Beigi family are put on a show in this museum, as well as a photo room to show some photos of old kermanshah, old building, and Kermanshah celebrities.
On the southern side of this mansion, there is Zagros Paleolithic Museum, which is the oldest Paleolithic museum in the Middle East, and the skull, stone tools, human bones, some part of the body of Paleolithic's people and equipment from the Paleolithic period can be seen in this museum that are found in Iran and other countries. Some models of Neanderthal human simulation can also be seen in this museum.
Iran, especially Kermanshah, has been one of the civilizations of the Paleolithic period in the region, and most of the excavations obtained in this province from the Paleolithic period have been exhibited in this region.
The Office of the Kermanshah Tourist Guides Association is located on one of the rooms of Biglar Beigi Tekie, and you can visit this association at certain times of the week to contact with tourist guides.
At the northern part of the courtyard are two floors and one basement; access to the basement is via a staircase in the courtyard. The tekie basement includes a pool, a summer halls and number of rooms which is the coolest part of tekie that was changed to Sharbatkhane. Sharbatkhane is a place like teahouse with very pleasant mood that you can not only eat a variety of local dishes and drinks of the day but also meet your friend in a suitable & delightful place.
Where to stay near tekie Biglar Beigi
There are small inns near Tekie Biglar Beigi, which are located near the traditional bazar at a very cheap price. But the closest hotel to Tekie is the 4-star Parsian Hotel, Jamshid Hotel, and Sina Hotel. And the only Kermanshah's hostel, the Oak hostel, is located in the historical context of Kermanshah and near this Tekie.
The best time to travel to Kermanshah
The best time to visit Tekie Biglar Beigi is in spring. Due to its beautiful courtyard, garden and pool & pleasant weather in April and May.
Other tourist attraction
Other attractive tourist attractions near Tekie Biglar Beigi include Takie Moaven-Ol-Molk that is located in the Kermanshah traditional context, Sarem-Ol-Doeleh House, Emad Al-Dawlah Mosque, Shafei Mosque, Haj Shahbaz Khan Bath, all of which are located in the Kermanshah Traditional Bazar, which includes numerous caravanserais and beautiful shops & stores & Tagh Bostan located in the northern of Kermanshah.
Location of Tekie Biglar Beigi
This mension is located in the central part of the historical context of Kermanshah, In Sarem al-Dowleh Alley in the old neighborhood called Feyzabad, Somewhere in front of the Grand Mosque on Hadad Adel(Modares) Street.
How to get to tekie Biglar Beigi
To reach to Tekie, you can use public transportation such as buses or taxis.
By bus: Next to tekie, there is a bus stop in Hadad Adel(Modarres ) street.
By personal car: If you want to rely on a personal car, don't worry about parking anymore because of the several proximity parking that worked in day & night.