Every year more than 300 million people celebrate Nowruz on the 21st of March; But what is Nowruz? Where are its commonplaces? And how do people celebrate it?
The Most Important Event of the Solar Calendar
Nowruz (in Farsi: نوروز) is a Persian term referred to as the Persian new year that literally means a new day or, according to some references, a bright day. Persian people worldwide celebrate this day on the first day of Farvardin (which is the first month of the solar calendar). The celebration starts at a specific timeو an exact hour, minute, and seconds and lasts for 13days. Iran, Kazakhstan, Azerbaijan, Afghanistan, and Albania are the countries that celebrate the new year on this day, paving some historical observances. As it is celebrated in various countries, you may hear people refer to it with different pronunciations such as Nowrooz, Novruz, and Nowrouz.
When did Nowruz start?
Nowruz 2021 celebration started on March 20tht at 13:07:28. Despite many nations whose new year begins in winter, the Persian new year begins in spring. The exact time of the Nowruz celebration varies year by year. They call that precise time "Lahze Tahvile Sal," which, according to geophysics scientists of Iran, is the exact time when winter finishes and spring begins. First of Farvardin is 21st of March on Georgian calendar which has the equal hours of the day and night. 
Where did Nowruz originate:
According to the poems of Ferdowsi in Shahname and Hakim Omar Khayam's poems, the history of Nowruz goes back thousands of years ago in Iran. Due to current estimates, Nowruz is more than 3000 years old. Historians claim to find different documents about Nowruz during various periods such as the Achaemenid, Parthian, Sasanian, and Muslim conquest. At that time, Iran covered more lands. Over the years, these lands got separated from Iran, but they are still celebrating this event.
Nowruz Traditions in Iran:
Nowruz is an excellent symbol of Persian culture's precedence and worth. The observances have several parts, which start before the new year and continue to the 13th day of Farvardin (Sizdah Bedar). 
Cleaning the habitats:
To welcome the new year, which comes with the freshness of nature, people clean their homes, offices, and habitats. This cleaning includes washing the floors, the curtains, the carpets and cleaning almost every piece of furniture.
Buying new clothes:
Another thing to do to get ready for the Nowruz is to buy new clothes to wear in Sal Tahvil and relative meetings. Some people renovate some of their furniture, too. Iranian shopping malls are usually very crowded with people shopping for new things for Nowrooz this time of year.
Preparing Haftseen Table:
Haftseen (HaftSin, Haft Sin or in Farsi: هفت سین) table or Sofreh Haftseen is a symbol of Nowruz of which includes seven different items that each of them resembles a particular aspect of life. Haftseen includes sprouts or grass that symbolizes rebirth and renewal, apples as a symbol of beauty, garlic as a symbol of health, Russian olives as a symbol of love, a kind of Persian pudding called Samanu as a symbol of fertility, gold coins as a symbol of wealth, and Sumac that represents a new day. Mirror and candles, along with a holy book, commonly Quran or Hafez poems, are the other table elements.
All together around Haftseen:
Persians gather with their loved ones, usually family members and friends, at Sal Tahvil moment. They sit around the Haftseen table and pray for love and a healthful year ahead. They give each other gifts (Eydi) to congratulate the new year.
Nowruz Mubarak:
You might have heard this term when it comes to congratulating the Persian new year." Nowruz Mubarak" is the Persian term for "Happy Norooz." Most Iranian families have parties in Nowruz because it is an excellent time for many people to visit their relatives and friends to say congrats. That's why many families provide different pastries, nuts, sweets, and fruits to serve their guests during the visit. Nowruz 2020 and 2021 were different because of the Covid-19 pandemic. Iranians had to do their New Year visitings via online tools, such as video calls.
Sending out Gifts for Newlyweds:
In some parts of Iran, families send gifts to newlywed couples. This gift contains a tray filled with Haftseen components and some presents for the new couple such as clothes, jewelry, or some new furniture for their home.
Nowruz is not celebrated only in Iran:
Besides Iranians, many other nations celebrate Nowrooz. Most of these countries used to be a part of Iran, but they have become separate countries for various reasons. Azerbijanians, Afghans, Sunnis, Kurds, some Turks, and Pashtuns are the nations who celebrate Novruz even though some of them do not have a solar calendar as their main calendar.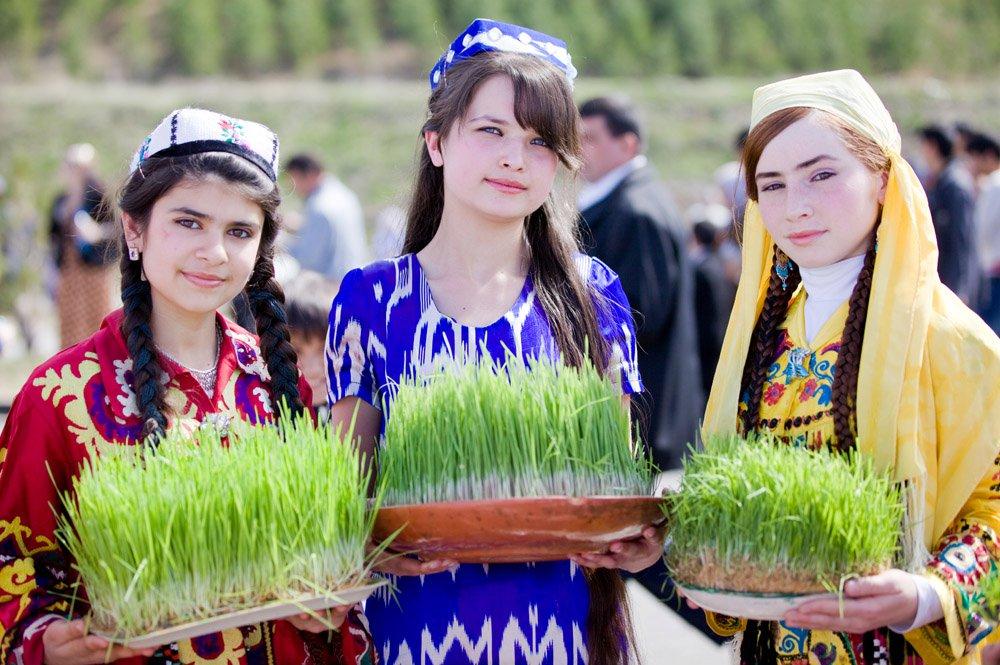 Nowruz Holidays:
At the beginning of the new year, two-week holidays start in Iran. Schools and most offices are closed during this holiday. Many Iranians use this holiday to go on vacations. Tourists can be found in every part of Iran at this time of the year. Isfahan, Mashhad, Kashan, Shiraz, and the northern provinces host many tourists in Nowrooz.
Nowruz celebration with unique Persian dishes:
Persian cuisine is full of various pastries, sweets, and food for different celebrations. Nowruz (Nowrooz) as well includes particular food. Iran is a multicultural country with various traditions in different parts. Nowruz's unique dishes vary from one part to another. Sabzi Polow, Reshteh Polow, Ash Reshteh, and Baghali Polow are the most famous dishes that Iranians serve as dinner on the first day of the new year. Sweets and pastries are too prepared based on region and are different in each part. Shirini Nokhodchi, Qorabieh, Qaz, and Qottab are the most famous sweet pastries that Persian people serve to host their guests during Nowrouz.
Sizdahbedar, a Great Conclusion for Nowruz Holidays:
Iranians celebrate the new year on this day because it symbolizes the renovation of nature for them. From Chaharshanbeh Suri(Persian fire festival), which is celebrated before Nowruz, to Sizah Bedar, which they celebrate at the end of the holidays, Iranians follow rituals to celebrate nature's revolution. The celebration ends on the 13th of Farvardin (Nature's day) with a family picnic in nature. On Sizdahbedar, most people throw their sprouts to nature and ask nature for a year full of fertility. 
Best Destinations in Iran to Travel on New Year holidays:
Considering the mild spring weather, most parts of Iran have a scenic nature at this time of year. Based on your favorites, you can have many options as your Nowruz holiday's voyage destination. The north parts of Iran would be an excellent choice for rain and greenery lovers, while historical places fans choose Isfahan, Shiraz, and Kashan. For a warmer climate and marine sceneries, you can travel to the south of Iran.