At the end of the Qajar period, in the center of Qazvin city. The complex was built by the order of Sadol Saltaneh Isfahani the governor, and this place is named after him. This complex is a part of Qazvin's Bazaar so it's also called Sa-Ra-ye Saltaneh too. In these periods Qazvin was an important city for all traders around Iran and World, this complex was a luxury place for staying and an international trade link from the Silk Road, in this perspective the value of the architecture art and social value is notable.
The architecture of Sadol Saltaneh Complex Sadol Saltaneh is one of the biggest roofed caravanserais and was the main center trading. The area is about 6.2 hectares. built on a square plan with 4 Iwans facing a courtyard. This is the main part because the rooms for staying are in this part, these rooms called Hujreh. From the courtyard, you can go to other spaces of this complex.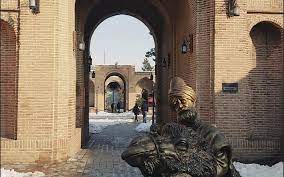 The second part is Chahar Sough or four-way. When four hallways come together to one place (center point), called Chahar Sough. Above it, has a big dome with great artworks of Iranian tiles. Four sides of this dome are four half- Dome with Rasmi Bandi and Horno. Rasmi Bandi is a form of decoration with geometrical rules, the shapes are inspired by nature or intellectual thoughts. Horno is small holes on the roofs, from these holes the lights will be provided.
All over the Complex are decorated with wooden doors and windows with colored glasses, Iranian tiles, bricks, Rasmi Bandi, and Muqarnas. Muqarnas is also a geometrical design inspired by bee's hive or stalactite in the caves. The materials are mostly made by Bricks and mortar plasters. The Complex was registered as a part of Qazvin's Bazaar on December 8, 1937, to the list of Qazvin's heritage organization. On August 2, 1998, separately from Qazvin's Bazaar, registered as Sadol Saltaneh Complex.
Activities in Sadol Saltaneh Complex
Nowadays you can see the Hujrehs have changed their functions to Handicrafts shop, cultural clothes shop, coffee shop, and museums. The entrance is free for all visitors, you can experience the past by walking around and after a good visit, you can shopping and buy beautiful gifts that are inspired by Qazvin's culture or take a moment by drinking coffee in small coffee shops. In some of these coffee houses, books are available too, the books are in two languages English and Persian about Iran and Qazvin city. Location of the Sadol Saltaneh Located in the center of old Qazvin, Imam Khomeini Street, in this neighborhood, some old people of Qazvin are still living in there and their Persian accent is sweet.
For arriving in this complex you should reach the Azadi Square and from the southwest of the square, enter to Imam Khomeini street from it, it takes about 10 to 12 minutes by walking, by walking around the Azadi Square to the Saraye Sadol Saltaneh complex the combination of the Safavid and Qajar era can be experienced.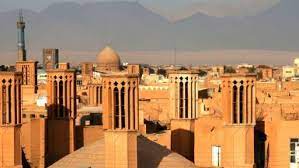 Attraction near Sadol Saltaneh Complex
In Safavid Era, Qazvin was a capital before Isfahan so near this complex, we see some similar attractions of Isfahan in this city. We introduce three attractions, First Attraction is Chehel Sotoon Palace, located on the south side of the Azadi Square (Sabze Meydan called by locals), like a smaller scale of Isfahan's Chehel Sotoon Palace. The second attraction is attached at the end of this palace it's called Safavid Royal Precinct, this complex was built inside the Iranians gardens called Saadat Abad's Garden.
One of the first modern Hotels was built near it named Grand Hotel but it's not available for visitors. The last and third attraction is Qazvin's Museum located on the southeast of the Chehel Sotoon Palace, in Helal Ahmar street. There are many historical objects in this museum that belongs to pre-historical (bronze era- pottery era), and historical eras (before Islam and Islamic period).
Where to stay next to Sadol Saltaneh complex?
We introducing one hotel, one hostel, and one place like ecolodge. Iran Hotel in Azadi Square, Peyghambariyeh crossroads. One of the oldest hostels is Golshan Hostel, in Imam Khomeini Street, near Azadi Square, named after one of the caravanserais of Iran. If you like to experience living in the past by staying in one of the historical houses of this city, we suggest Behrouzi's House, in Imam Khomeini Stree. Form all these three staying places, to the historical attraction, it takes about 5 to 10 minutes by the car.
Best time to visit Sadol Saltaneh complex
The best time is in Spring (April till June) when all the gardens in this complex are green and beautiful and the weather is nice. At the end of Shahrivar's month (15 – 21 September) is also a good time to visit this incredible complex.