It all began one year ago when, as a result of a series of casualties, I met my Iranian boyfriend. We end up working together in a cosmetic shop in Rome by the summer of 2018 and it turns out that we already had common friends and we both live in Milan, but for some strange reason we haven't met before; I'm convinced that things just happen in the right time when you're ready for them.
So, I began with the basics, learning some words in Persian, tasting their delicious food and attending to their festivities; at the edge of the 7th month we decided to take the leap and go to meet his country, I was so excited with the possibility of knowing his family and his roots. Once the decision was made, we started all the requirements so I could visit the county:
Applying for a Tourist Visa: this was the hardest part; we got an appointment online and arrived at the embassy all confident with the necessary documents, next thing we knew: my Visa was rejected (and I had already paid for the fee). I was so sad thinking that I could never know my boyfriend's background. As a Colombian, the requirement was to apply through a travel agency, but nobody had informed us about that, fortunately, we found a very good agency from Iran that provides us with a code, with that (and a new payment at the embassy), I was able to have my Visa in a week.
Doing the Luggage: I ask my boyfriend help for choosing the most suitable clothes for our trip, it came out that nothing in my closet was appropriate. Therefore, I had to buy some clothes, they should cover my arms, legs, neckline, and butt and, in addition, I should find something to cover my hair. These rules are only effective on the street, if you are at home you can have more open clothes, but it always depends on how religious is the family which you're staying with (fortunately for myself, my boyfriend's family: not religious at all)
Accommodation: This one is a little tricky, in Iran is forbidden to book the same room for a not married couple (if one of them is Iranian); luckily for us, in all of the cities that we were going there was some relatives who could accommodate us without sleeping in separate rooms.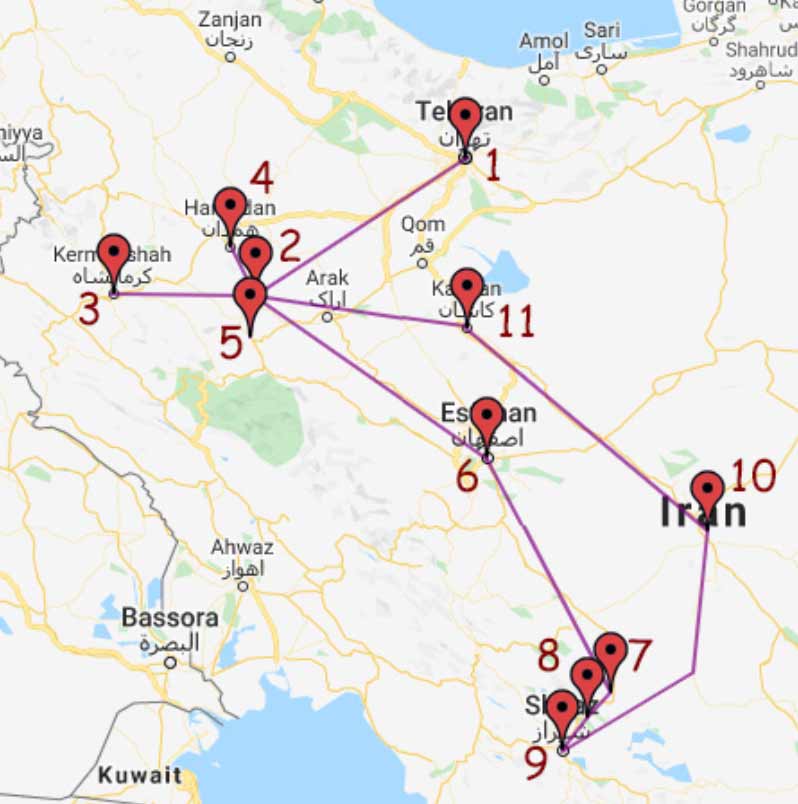 #1 Day Flight
#2 Day Tehran
#3 Day Malayer
#4 Day Kermanshah
#5 Day Malayer
#6 Day Hamedan
#7 Day Borujerd
#8 Day Malayer
#9 Day Isfahan
#10 Day Isfahan
#11 Day Pasargad & Persepolis
#12 Day Shiraz
#13 Day Yazd
#14 Day Kashan
#15 Day Malayer
#16 Day Flight
After all that, we finally managed to make the trip, taking a flight directly from Milan to Tehran, Iran's capital. It was a five hours flight and we arrived at night, from the airport we took a Snapp (something like Uber) to the house we were staying, the next morning we began our 16-day trip around 11 cities.
At Tehran, we've been moving by taxi, but since we arrived at Malayer (my boyfriend's city) it was easier to do the travels by car, taking into account that all the cities were nearby. The road trips were so fun; we prepared a memory drive with our favorite's songs, that we sang and danced all the way, and a bag with snacks for eating when we were feeling hungry; the funniest thing was seeing, from time to time, groups of sheep crossing the streets.
Well, what can I say about Iran? I really enjoyed it! The people there are so kind and the country is not dangerous at all (like some people think). It is incredible the amount of beauty that this country has on every detail; most of the ceilings, for example, are geometrically designed with the "muqarnas chiseling" technique emulating a honeycomb. I must come back to see the rest of the country because it is really worth the visit.
However, I must also say that not everything was perfect. Sometimes it was a little difficult for me feeling that I had to hide on the streets because, as a woman, I didn't have the same rights; most of all, in the hot cities where I must remain with all those clothes that I had on me (so I recommend not traveling on a hot season). The bathrooms were also a challenge, as most of them were latrines that I was not used to (little Tip: always check the last cabin, you can find a normal bathroom in there, and bring your own toilet paper). Nevertheless, you need to understand that is a different culture, so you won't feel comfortable with all of it, but the rest part is so amazing that dealing with these little difficulties it's not that bad.
THINGS I LEARNED AND SOME EXTRA TIPS FOR TRAVEL TO IRAN
I loved the food and how they have a whole tradition around it: Sitting on the floor, on a Persian carpet, they put all the food in the center so you can take whatever you want and at the end, when you are so full that you can't stand up, you say "nushejan" (the Persian word for enjoying your meal) and drink some tea with cookies (I know more food) or maybe smoke some shisha.
If you can, travel with a local, a lot of people only speak in Persian, so the communication will be easier, plus you can take advantage of some discounts if your friend can convince others that you are Iranian as well (Iran is so cheap, but if you're Iranian is cheaper). However, spend some money on your stay; right now, the economy is not doing well.
There's no Visa or Mastercard connection in Iran, you won't be able to use your debit or credit card; bring cash and exchange it for the local currency. The exchange office at the airport is more expensive, so change a little bit there and the rest in the city.
Be careful crossing the streets, there are no traffic lights or crosswalks, so the task can become an impossible mission.
A Persian person cannot live without three things: a carpet, some tea, and a shisha.
Read More: http://paosjourney.com/my-journey-to-iran/