Are you a vegan and you are worried about traveling to Iran because of this? Take a deep breath and forget your worries… At these vegan restaurants in Tehran, even die-hard carnivores will want to go sans-meat…
Whether you're vegetarian, vegan, or just searching for plant-based dining options, it's good to have personal recommendations. That's why in this article, Apochi has created this list, featuring the five best vegan restaurants in Tehran, Iran.
---
---
We're not just talking about healthy salads and sprouts here either. Across Tehran as the capital of Iran, you can find everything from vegan foods, Kebab, fast-food restaurants to fine vegan dining and everything in between. So without further adieu, here's our list of Tehran's best vegan restaurants – from wholly vegan eateries to vegetarian restaurants with vegan-friendly options. Here's where you'll find the best plant-based cuisine in Tehran.
Nooshe Jaan, Honeys!
Zamin Café & Restaurant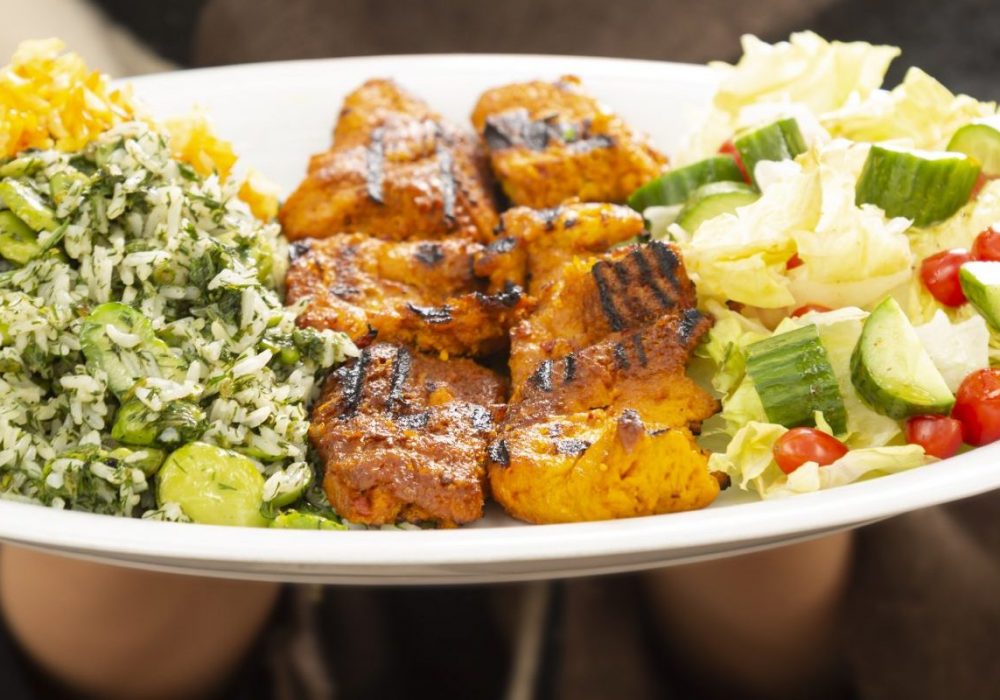 Zamin restaurant is one of the best vegetarian restaurants in the western part of Tehran. In addition to serving vegetarian food, it has an interior and environmental design inspired by nature. The main motto of this restaurant is "completely vegetarian food equals excellent food," which used its decor and design based on wood and natural elements.
Most of its tables are in the open air, which is reminiscent of nature and its beauties. The menu of Zamin Restaurant is very diverse. Most Iranian and international dishes are served completely vegetarian, such as burgers, pizzas, sushi, and even vegetarian kebabs. Also, if you like any of these plant ingredients and want to have some of them for your home, you can easily buy these ingredients from this restaurant.
Location: Zamin Vegan Restaurant
Address: Pardisan apartment building, Sima-ye-Iran Street, Shahrak-e- Gharb, Tehran, Iran
Mon-Sun10.00 am – 11:30pm.
Phone: +982188580555
Email: [email protected]
Ananda Vegan Cafe and Restaurant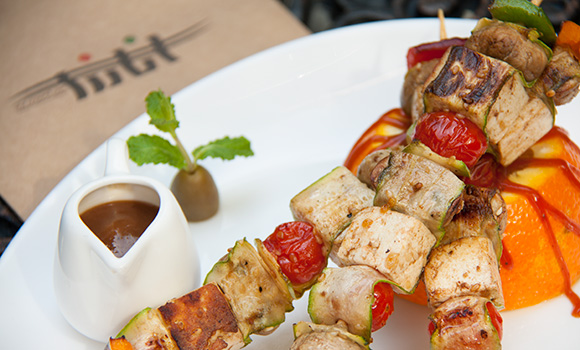 Ananda is another leading vegan restaurant in Tehran located in the northeast of the city. This vegan restaurant has prepared a comprehensive menu of international and traditional vegan dishes. For example, You can find Both Kebab and Pizza, here. The further beautiful thing about this vegan restaurant is its ever-green atmosphere. Even in winter or fall, you can experience the freshness of spring in Ananda's green atmosphere. In addition, Ananda offers a full hand of vegan dishes, including vegan soups, pasta, vegan Persian stews, appetizers, desserts, and vegan fast food. In short, It is an ideal place for all who prefer to eat delicious healthy food in a calm environment.
Location: Ananda vegan cafe & restaurant
Address: No:18, South Ekhtiarieh, Pasdaran St, Tehran, Iran
Mon-Sun12.00 noon – 11:00pm.
Phone: +9821 2255 6767
Email: [email protected]
Khaneye Honarmandan Vegan Restaurant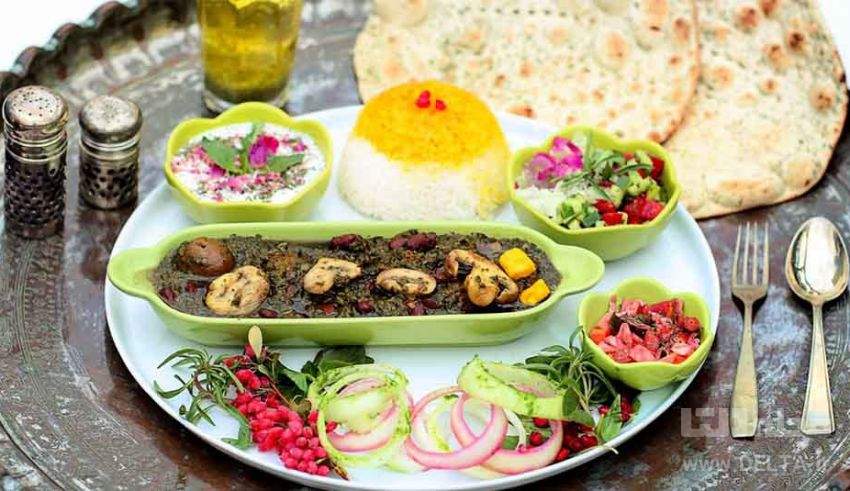 Iranian Artist Forum veggie restaurant is one of the famous vegan restaurants in Tehran with over ten years of experience serving various Persian dishes. It is also known as the "Iran Shahr" restaurant next to theater halls with the same name. This restaurant is on Taleghani street, and it is less distant from historical sites than other vegan restaurants. The menu includes a variety of pizzas, Chelokebabs, soups, and many other vegan dishes. Above all, Khane Honarmandan Vegan restaurant is located next to a beautiful garden in Iranians Artist Forum in Tehran. On top of great vegan food, it has a simple, relaxing environment.
Location: Iranian Artist Forum Veggie Restaurant
Address: Tehran Province, Tehran, Baghe Honarmandan، Iranshahr St, Iran
Mon-Sun11.00 am – 11:00pm.
Phone: +982188310462
Email: [email protected]
Pure, The best vegan restaurants in Tehran for refreshing!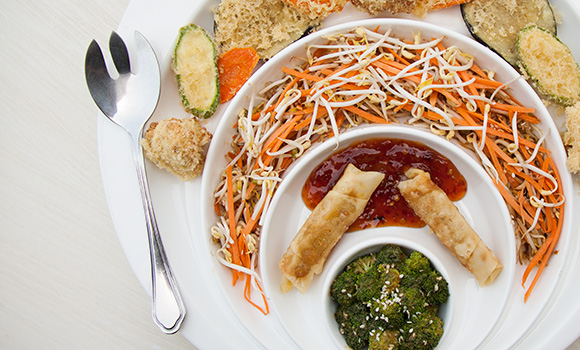 Pure Vegan restaurant is a well-known vegan restaurant At ASP Towers, with a unique decoration inspired by French cafes. At first glance, its white and warm environment filled with flowers welcomes the guests. The Pure restaurant has an entirely vegetarian and vegan menu, and since its staff is fluent in English, many tourists prefer eating at this vegan restaurant in Tehran. In conclusion, its delicious food, skilled team, and friendly environment have made Pure restaurant one of Tehran's most popular and crowded vegan restaurants.
Location: Pure Vegan Restaurant
Address: Tehran, 64th St, ASP Towers
Mon-Sun09.00 am – 11:30pm.
Email: [email protected]
Tilit, one of the Best Vegan Restaurants in Tehran for Dizzi lovers!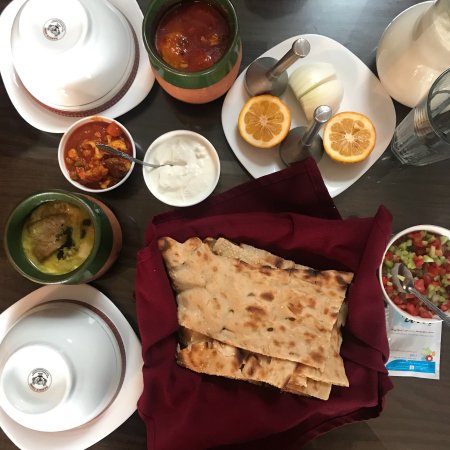 Tilit is a Restaurant on Sa'adi street which has a menu full of different Dizzi types. Dizzi is a very traditional Persian dish that contains meat as the primary ingredient. Therefore, calling Tilit one of the best vegan restaurants is a big surprise for many people.
However, Tilit has prepared a menu for both vegetarians and meat-eaters. Moreover, Tilit uses earthen pottery dishes in its modern environment, an excellent mixture of modernization and tradition.
Location: Tilit vegetarian restaurant
Address: North SAADI No. 194 MESBAH Ave. SEYED ALI Cross, Tehran 11369 Iran
Mon-Sun12.00 am – 12:00pm.
Phone: +98 21 3398 4684
Email: [email protected]