When it comes to souvenirs from Isfahan, a long and endless list of the most delicious sweets and wonderful handicrafts comes to mind.
Buying souvenirs from the city you have traveled to is one of the most attractive parts of your trip and in Isfahan. You have many choices because this is a city with unique and fantastic souvenirs in Iran.
Shopping in Isfahan is delightful and, in every corner, there is something new. Small and large stores, traditional bazaars, and modern shopping centers, even street vendors all have many attractive and spectacular products.
So before traveling to Isfahan, it may be a good idea to take a look at some of these souvenirs so that you do not get confused when buying them from shops because as we said earlier, you have many options.
In general, Isfahan has two categories of souvenirs: crafts, and cuisine.
Cuisine
Isfahan sweets and pastries are very favored and remarkable. Buying them as souvenirs for your friends and loved ones can be considered the best option because they are not too expensive and at the same time, they are delicious and intimate. So, you can easily surprise them with a delicious box.
Here are some of our best recommendations:
Gaz
Gaz (candy) is the most famous and delicious souvenir of Isfahan, a white crunchy sweet that has a wonderful taste.
The production of the first Gaz dates back to several hundred years ago. Almost more than 450 years ago in the Safavid period (dynasty era), and back then. Persian kings used to bring it to the rulers of other countries as gifts.
This souvenir of Isfahan is made of Gaz Angabin (Manna) which is actually the root of the Gaz plant or shrub. Gaz tree grows in Khansar region of Iran and at the foot of the mountain. Gaz, this very delicious sweet has different types such as chocolate, coin, Sliced, floured, finger and bite Gaz.
Poolaki
Poolaki (like a sequin) is a yummy souvenir from Isfahan which is very well known between travelers and is a light, tasteful, and shiny candy. Traditionally, to prepare it, sugar is mixed with water and white vinegar and put on the stove. When the mixture turns golden, they pour it spoon by spoon on the tray and wait for it to harden.
Poolaki is one of the most popular sweets that are served with tea and people generally believe that Poolaki is less harmful to the body than sugar cubs.
Isfahan Poolaki is similar to yellow or reddish thin sequins (Poolak in Persian), hence the name. Poolaki is one of the popular souvenirs of Isfahan. It is prepared in different flavors of mint, coconut, honey, ‌ ginger, lemon, pistachio, and cocoa.
Sohan Asali
If you are looking for 100% Isfahan sweets, instead of the common Sohan, which is usually considered a souvenir of Qom, it is better to go for Sohan Asali.
Sohan Asali (honey) of Isfahan is made with honey, sugar, rose water, pistachios and almonds, saffron, and water. Like sugar cubes and Poolaki, it is a customary sweet to eat along with a hot drink such as tea.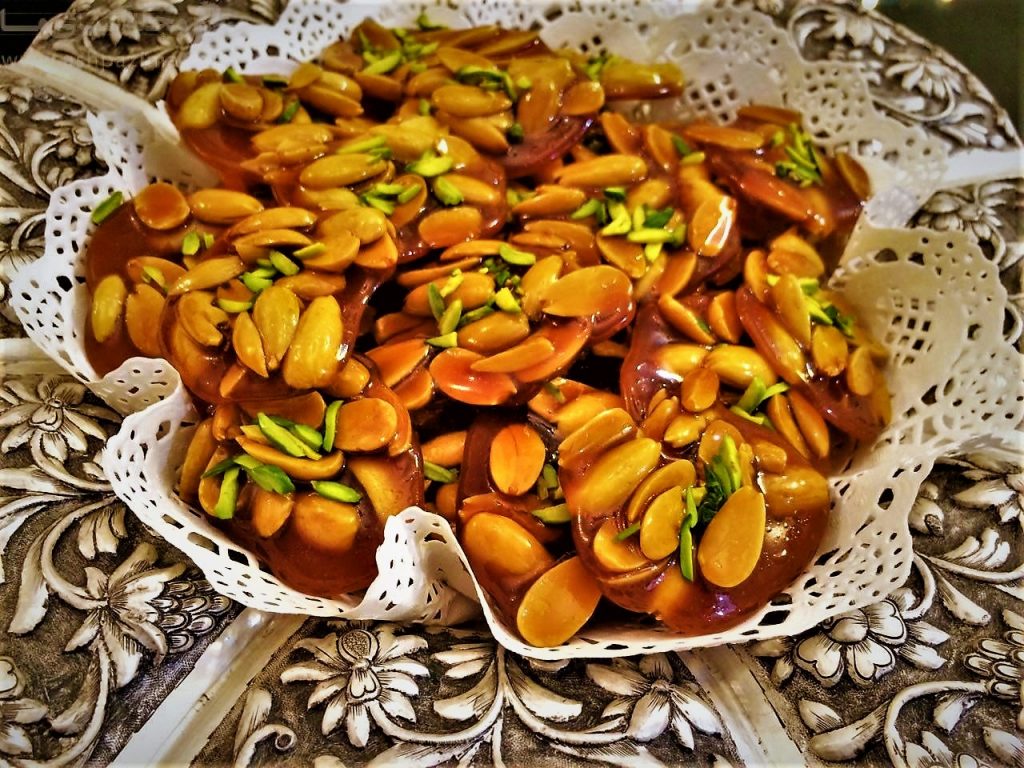 Honey
You can find a good example of this souvenir in Fereydun Shahr, the city of Isfahan province. Beekeeping and honey production in this area is a very specialized and old profession.
The variety of plant species and herbal medicines in this city has made its honey one of the best kinds in Iran. This souvenir of Isfahan has different types such as Zol honey (Eryngos, a flowering plant), Qangal (Milk thistle plant) honey, and yellow astragalus (plant) honey.
If you pass by the city of Isfahan, be sure to look for Fereydun Shahr honey because it is one of the best souvenirs that you can take with you.
Rock candy
Rock candy can be found everywhere in Iran and locals who are interested in various sweets for themselves and at the parties all over this country, usually have it in their kitchens.
But Rock candies from Isfahan with a variety of flavors of lemon, cinnamon, mint, ginger, etc are very popular, with great variety and taste, so they can be a good souvenir as a memento of this city.
Kerki
Kerki sweets are also among Isfahan food souvenirs, which might not be as excellent and recognized as others but admittedly very tasty and hard to resist.
Several types of flour, such as rice, wheat, and chickpeas flour along with oil, cardamom, and pistachio powder, are combined to make a delicious Kerki pastry. The best type of sweet is prepared with animal oil.
Crafts
Isfahan is the hub of Persian handicrafts with a long history which are not only renowned in Iran, but all over the world. You can have the best works of art of Iranian artists from Naghsh-e Jahan Square and the old Isfahan bazaar. The works of art in this city are very diverse that it surely can be confusing and hard to find the best items in the market. Of course, many of these traditional arts are common in most cities of Iran. We introduce the best options to buy as souvenirs from Isfahan.
Mina Kari
Mina Kari (Vitreous Enamel) is the art of decorating items, usually metal, made of gold, silver, brass, copper, and bronze, with colored materials.
Of course, Mina Kari is also used to decorate a variety of pottery and porcelain. Today, this art is mostly done on copper and has become one of the most important handicrafts in Isfahan. Usually, we see the Mina Kari works of Isfahan in the form of azure blue dishes, but there are other works in all colors, including red, green, yellow, gold, purple, brown, black, and so on.
To make these crafts, the dishes are glazed and painted several times, and then the dishes are baked in the oven.
Khatam Kari
Another spectacular handicraft of Isfahan is Khatam Kari, which is done by skilled Isfahan artists on wood. This art has a long history, but new designs date back to the Safavid period.
Although the origin of this art is considered to be the city of Shiraz, Khatam's artworks are souvenirs of Isfahan too. To make delicate and nice-looking works of Khatam Kari, small and triangular pieces of wood are placed side by side on the wood to create stunning geometric shapes.
In addition to wood, materials such as camel or horse bone, gold, silver, aluminum, brass, and ebony wood are used in the construction of Khatam Kari.
Read more: Unique Souvenirs from Shiraz; Crafts, and Cuisine
Toreutics
Decorating and carving on copper called toreutics is also considered another famous art done by master craftsmen of the civilized city of Isfahan.
Creating various lines and patterns on copper and other precious metals such as brass, gold, and silver in Isfahan is known as Toreutics which is actually engraving on metal but with an artistic taste. This is a vast art and there are many different styles for it.
Eminent Isfahan masters have been developing and preserving this art since ancient times. We recommend putting toreutics utensils and paintings on your Isfahan souvenir list.
Calligraphy Paintings
Isfahan has been the calligraphy capital of Iran in all historical periods and eras. Mir Emad Hassani, Abdol Majid Taleghani, and other great artists who have worked in the field of calligraphy have spent their time in Isfahan and they have helped to enrich this art.
Calligraphic paintings are also valuable souvenirs that you can buy from Isfahan. These unparalleled souvenirs of Isfahan are very ideal and impressive both artistically and technically, and elegance, precision, and technique have been used to creating the great art pieces.
Kalam Kari
Kalam Kari can be called the art of printing on fabric. The designs are marked with large wooden stamps, the size of a palm, filled with colors, on different fabrics such as linen, and canvas. This process creates incredibly beautiful, attractive. At the same time simple fabrics that can be a good souvenir of a trip to Isfahan.
With a short tour of Isfahan markets, you can find these souvenirs in various designs and colors.
Filigree
The silversmith work, also known as Filigree is another high-end quality craft in Isfahan. The production of Filigree is very prosperous in Isfahan province and Isfahan silversmiths produce and sell sets of necklaces, earrings, bracelets, and pins in this thriving market.
Copper Utensils
Copper utensils with exquisite bright brown colors are also considered souvenirs from Isfahan. You can either purchase them for practical use at home, such as cooking or just decorate and beautify your house with them. Different types of copper utensils in terms of size and model can be found in the Isfahan bazaars.
Persian Carpet
Isfahan's handmade carpets are expensive and among the most valuable souvenirs from Isfahan.
It is not exaggerating to say these wonderful Persian carpets although very pricey, but they are incredibly gorgeous and maybe it is better to keep them for yourself instead of giving them as a gift.
The art of Isfahan weavers is distinctive in the world and Persian carpets. You can find good examples of them in the city of Isfahan, which are priceless and unique.