The Spectacular Qeshm Island, as the largest island in Iran, hosts a large number of domestic and foreign tourists every year. In addition to visiting natural and historical attractions, eating the local food is one of the most enjoyable experiences of any trip; Local food in Qeshm, on the other hand, brings you a world of wonder and excitement with a pleasant taste. In this article, by introducing the best restaurants in Qeshm and explaining the details of each, we will make it easier for you to make the right decision.
1. Haj Ghafoor Restaurant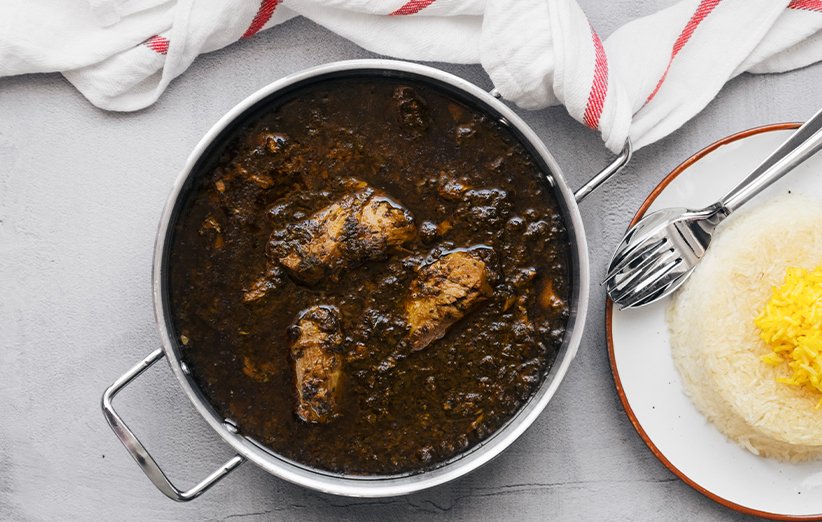 Haj Ghafoor Restaurant is one of the most popular and best restaurants in Qeshm; So much so that many customers are always thinking of Haj Ghafoor restaurant as the first choice to taste the real taste of the local food. The spicy seafood of this restaurant, as well as its delicious fish roe (Qalieh Maahi), are famous among the people of Qeshm. In addition to delicious fish roe, you can find the best shrimp of the island on the menu.
The unique point of Haj Ghafoor restaurant is the coordination of the price and quality of its food; That is, the cost of providing services and food is quite fair and reasonable.
If you are a fan of seafood and you want to have delicious food with your loved ones, be sure to include Haj Ghafoor restaurant in your list of choices, which is one of the best restaurants in Qeshm.
Haj Ghafoor Qeshm Restaurant Address: East Persian Gulf Boulevard, next to the Sheikh Haji Ramazan Mosque
2. Castle Restaurant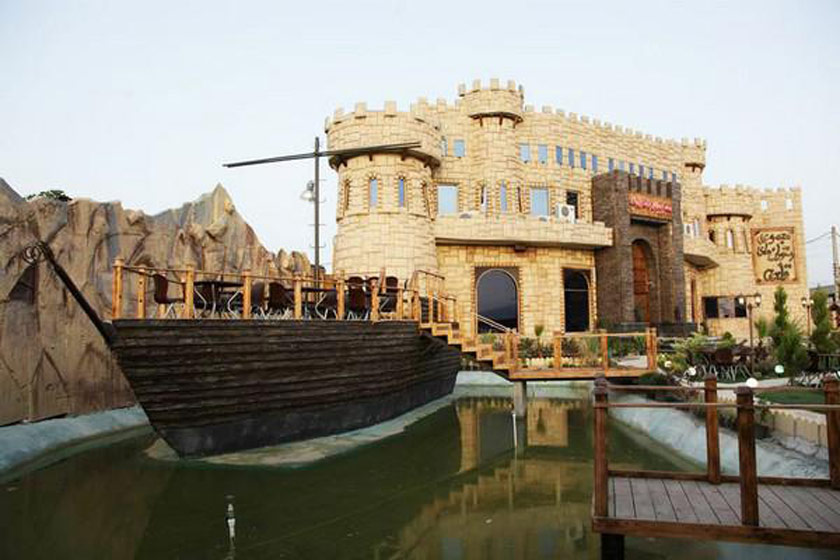 Near the Portuguese castle and on the shores of the azure waters of the Persian Gulf, you will find a popular restaurant inspired by the castle's architecture. Unlike the exterior of the restaurant, its interior decoration is very simple to create a sense of intimacy for the guests. It does not matter if you are watching the sea from behind the large windows inside the restaurant or sitting in the open air of the restaurant and enjoying your food near the beach, in any case, listening to the sound of the waves and watching the greatness of the sea will create a memorable experience.
Perhaps one of the strangest features of Castle Restaurant is the lack of a classic paper menu; Because the menu at this restaurant depends on the fisherman's catch each day, so don't be surprised if you get the menu orally from your waiter. Of course, rest assured that this restaurant will leave you with the best seafood experience on the island; Food such as sharks, crabs, squid, oysters, and shrimp.
Castle Restaurant Address: Velayat Square, next to the Portuguese Castle
3. Khaleh Restaurant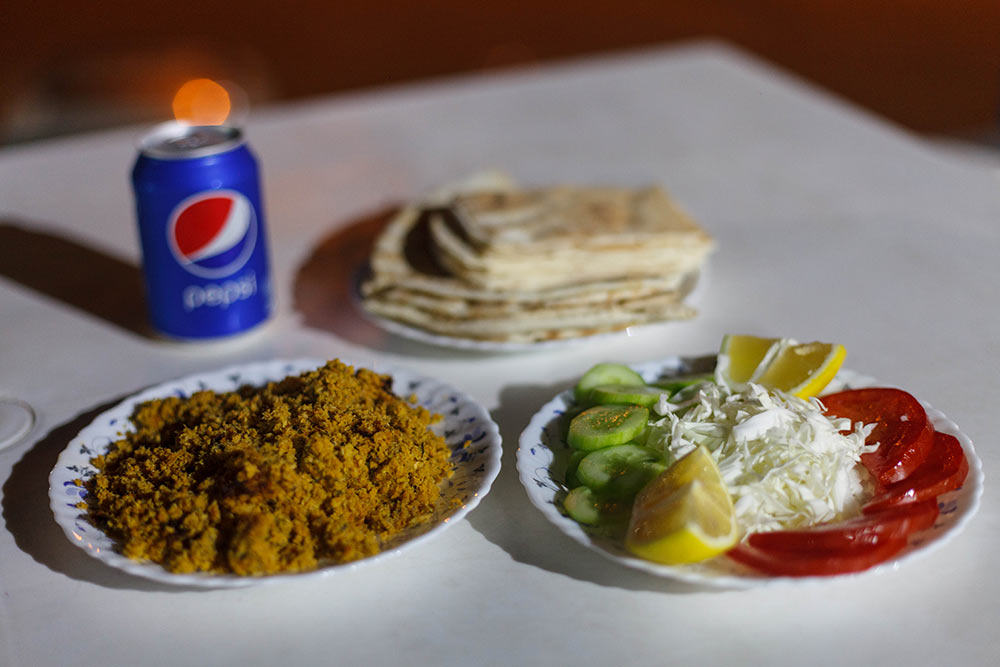 Is it possible to travel to one of the southern cities of Iran and not try falafel and southern samosas? Khaleh Traditional Restaurant and Fastfood is one of those places where you can find delicious southern food on the menu. The special skill of the native lady of the island – the chef and owner of this restaurant – in cooking authentic southern food, has turned Khaleh restaurant into one of the most famous and best restaurants in Qeshm.
The delicious taste of local dishes such as falafel and samosas, as well as healthy seafood options such as oysters, sharks, anchovies, squid, shark, and shrimp, which are mostly cooked in this restaurant as sandwiches or offered as buffet. This restaurant serves its guests every night from 7 pm to 10 pm.
Khaleh Restaurant Address: Next to the Portuguese Castle towards the highway, Khaleh Traditional Restaurant and Fastfood
4. Alvand Restaurant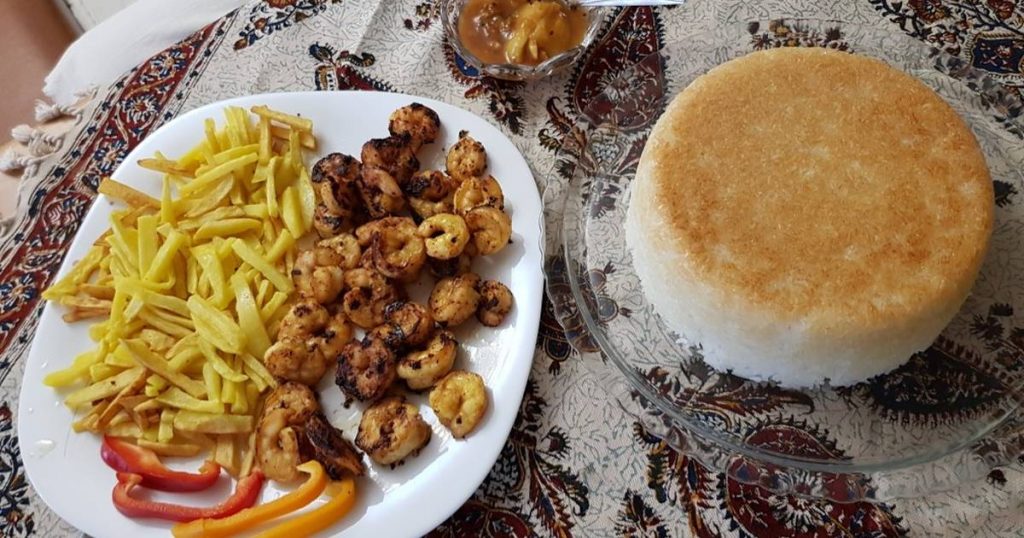 If you are looking for a restaurant in Qeshm to hold important meetings or parties, Alvand Restaurant with its stylish and luxurious design is a good option for you. This restaurant is located inside the Alvand Hotel, and if you choose to stay in this hotel among the hotels in Qeshm, you will not regret eating a few meals in this restaurant.
In addition to its famous shark and seafood mix (a combination of fish kebab, fish fillet, fried shrimp and fried fish), welcomes its guests with a varied menu including kebabs, snacks, and seafood. Alvand Restaurant is open every day of the week except Wednesdays from 12 pm to 1 am and the restaurant staff will welcome you with open arms. Be sure to visit this restaurant, which is one of the best restaurants in Qeshm.
Alvand restaurant address: Azadegan Blvd., southwest of Shohada Square, corner of Elahieh Street, Alvand Qeshm Hotel
Have a short amount of time is Qeshm? Read our quick guide to Top 5 Things to Do in Qeshm in 2 Days
5. Abshar Restaurant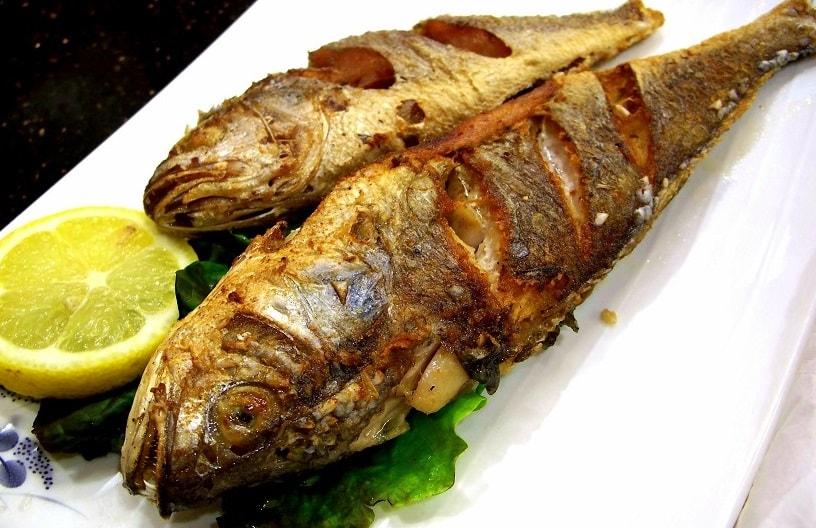 One of the oldest restaurants in Qeshm, which today, despite having two branches close to each other, is one of the largest and best restaurants in Qeshm, is called Abshar Restaurant.
After a fun shopping experience at the Marjan International Trade Complex, be sure to check out the waterfall and delicious seafood at Abshar Restaurant, located near the mall. The restaurant is best known for its delicious and spicy seafood, especially fried shrimp and fish kebab. Of course, in addition to these, Abshar restaurant also cooks high-quality non-seafood dishes to keep every taste and preference satisfied. The large and bright hall of this restaurant, with its dark and heavy furniture, has given an original appearance to the restaurant and made it a suitable environment for family gatherings.
Abshar restaurant address:
Branch 1: Shohada-ye Gomnam Square, in front of Marjan Shopping Center
Branch 2: Valiasr Boulevard, north of Golha Square, in front of the Persian Gulf Shopping Center
6. Naeem Restaurant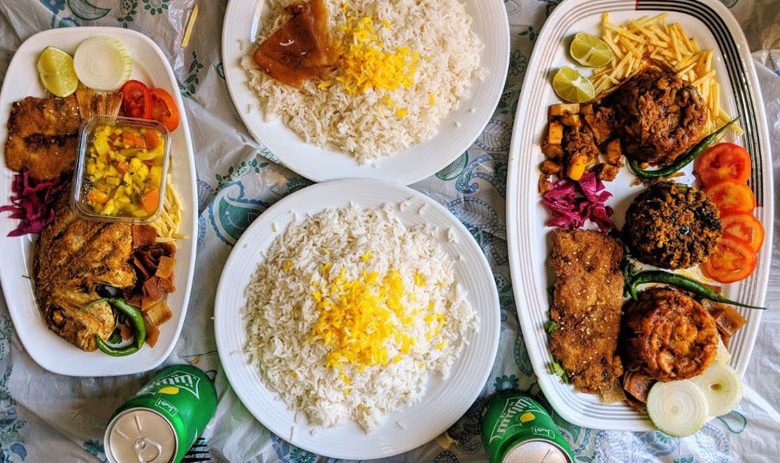 Naeem restaurant has a special place among the best restaurants in Qeshm. After eating Persian food and seafood in this restaurant, you will notice its huge difference with other restaurants. Chicken, a variety of kebabs, a variety of dishes, fish roe stew, fish kebab, grilled fish, steak, and puffed shrimp are some of the most famous dishes of this restaurant.
The food at Naeem Restaurant is offered in buffet style and the food is reasonably priced. The large, cozy, and comfortable atmosphere of this restaurant, along with the colorful, tasty food and also the respectful attitude of the restaurant staff, convinces the travelers to visit this restaurant even once.
Naeem Restaurant Address: No. 985, Ground Floor, next to the coastal town, Imam Qoli Khan Square
7. Defari Nights Restaurant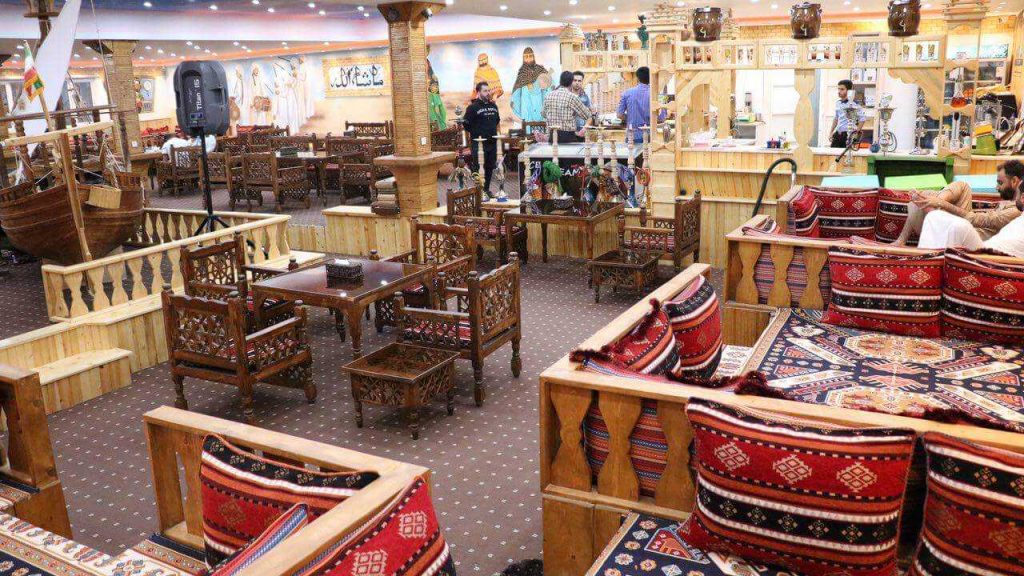 If you have not been interested in the local and seafood cuisine of south of Iran yet, wait a bit to have your mind changed by one of the best traditional restaurants in Qeshm. Defari Nights Restaurant is located in a village of the same name, 8 kilometers from Qeshm. When faced with the outdoor space of the restaurant and the surrounding scenery, you will not believe that a magical atmosphere has been created inside that will make your day; So much so that after entering the restaurant, you will be completely shocked to see the amazing atmosphere that showcases the traditional and local architecture of the island, and you will realize that this restaurant is one of the best restaurants in Qeshm.
All three floors of the restaurant, with their unique design, are a full-fledged mirror of the region's indigenous architecture and a manifestation of the handicrafts of the people of the island. There are different decors and various pieces of furniture in the different floors of this restaurant, and this difference continues to the point that even in some halls, instead of a bed, you have to sit on the carpet and lean your back on pillows.
Defari Restaurant is in the category of Qeshm restaurants with live music; The combination of pleasant music, coolness of the pool, and attractive architecture immerses the guests in relaxation and brings them happy times. You can enjoy the services of this restaurant every day from 12 noon to 12 noon.
Defari Nights Restaurant Address: Next to Jame Mosque, Defari village
Want to know more about Local Food in Qeshm? Read Qeshm for Foodies | 10 Best Local Food in Qeshm
8. Khan Boom Restaurant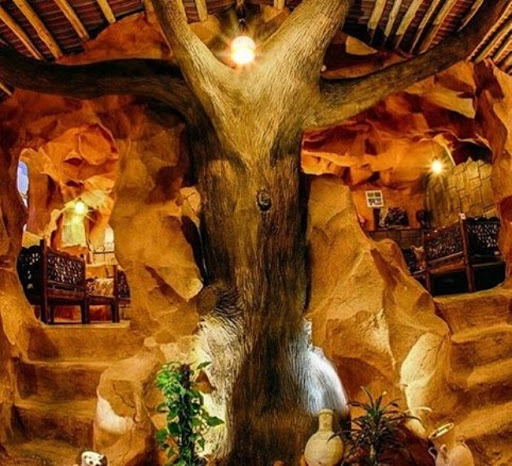 Inspired by nature and creating amazing decorations, Khan Boom Restaurant tries to reconcile man with nature as much as possible. Upon entering the restaurant, it feels as if you have stepped into a cave of several thousand years, an extraordinary excitement fills our being and our curiosity to explore this unique cave intensifies. The walls of this restaurant are designed like stone cliffs and the daybeds are located in the heart of the empty spaces; In addition, the presence of plants and elements of nature in this restaurant gives guests a great sense of nature.
Leaving aside the experience of eating in a cave-like space, we come to the unique menu of Khan Boom Restaurant, which is one of the traditional restaurants in Qeshm.
The menu of this restaurant consists of 4 sections and the titles of each of these sections are very interesting in their kind. The title of the 'Amitis' menu refers to the Boom Coffee Shop, which includes a variety of hot and cold drinks and desserts. The 'Iranwich' menu is dedicated to Khan Boom's fast food, and includes dishes such as pizza, sandwiches, burgers, and steaks. The 'Ariana' menu includes seafood, kebabs, and delicious dishes such as grilled fish and shrimp, seafood mix, are on the menu. Finally, the last menu, called 'Jahangir', which is related to the teahouse section, provides guests with a variety of teas and drinks.
This restaurant is open every day from 11 am to 11 pm, and due to its location next to the Star and Persian Gulf shopping centers, you can visit these centers before or after meals and buy souvenirs.
Khan Boom Restaurant Address: Ground floor of Marina 2 Hotel, Persian Gulf Street, Imam Gholi Boulevard
9. Amiran Restaurant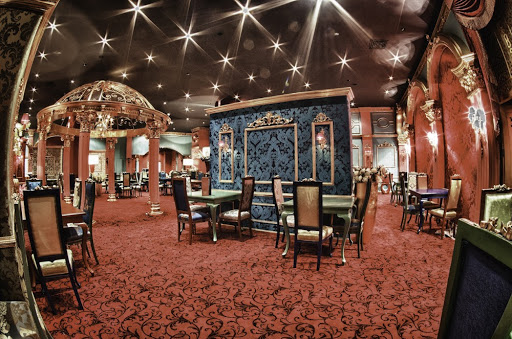 Amiran Restaurant is not only on the list of the best restaurants in Qeshm, but also on the list of the most luxurious restaurants on the island. Located on the second floor of City Center 1, this restaurant will blow your mind with its luxurious design. Despite the luxurious and comfortable furniture, guests prefer to choose a place to sit and be immersed in the beauty of the restaurant's luxurious space without wasting time.
In addition to the regular lounge, this restaurant is also equipped with a luxurious VIP lounge, which is a great choice for private gatherings. Amiran Restaurant has a variety of Persian and seafood dish options on its menu, and live music doubles the pleasure of eating for guests.
It is not unreasonable to expect that the prices of this restaurant would be a bit more expensive than other restaurants -due to luxurious atmosphere, live music, and special dishes; But you can rest assured that once you visit Amiran Restaurant, you will be fascinated by its warm atmosphere.
Amiran Restaurant Address: City Center 1 Complex, Second floor, Amiran Restaurant
10. Fatayer Lebanese Fast Food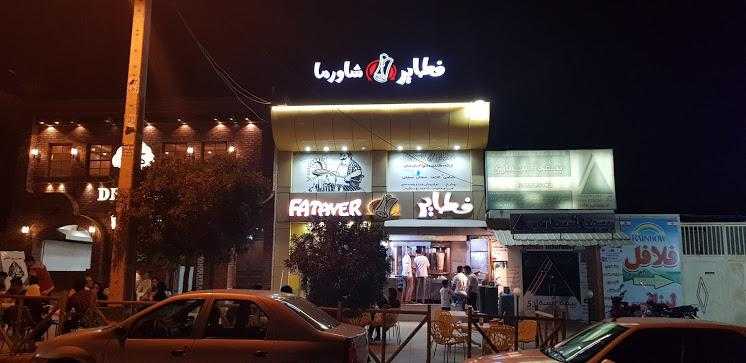 If you are tired of eating seafood after staying in Qeshm for a few days, we suggest you try the delicious Fatayer Lebanese Fast Food, which is the best fast food provider in Qeshm.
The restaurant may not be very large and the decor may not be eye-catching, but the food is always popular; Because all the dishes are cooked by the best Syrian and Lebanese chefs, and in total, more than 100 types of food is offered with the highest quality.
Qeshm Island has many Arabic and Lebanese restaurants, but the most famous dishes are served at Fatayer Lebanese Fast Food; There are a variety of dishes such as Shamiat, Arabic snacks, and Dangiyat.
The interesting thing about the food of this restaurant is that they are not fried, which has made it possible for anyone with any taste and preference to have many choices. Fatayer Lebanese Fast Food is ready to receive guests every day from 6 pm to 2 am and provides you with its food at a very reasonable price.
Fatayer Lebanese Fast Food Address: Danesh street, Resalat crossroad