Home to nearly 3500 kilometres of coastline, southern Iran is a legendary destination for beach lovers. Each city and village located along the Persian Gulf is packed with natural beauty, clean beaches, historic architecture, and super-friendly local people.
When you start searching for the best Persian Gulf's ports, you come across many incredible choices such as Kish, Gheshm, Hormuz, and Bandar Abbas. The bad news is that many of these seaside spots have skyrocketed in popularity and are over-crowded in peak season. The good news is that there are other wonderful ports that remained secret to local people. If you are looking for less crowded coasts with breath-taking beauty, there are many ports along the Persian Gulf which are perfect for a warm sunny trip during cold seasons of the year.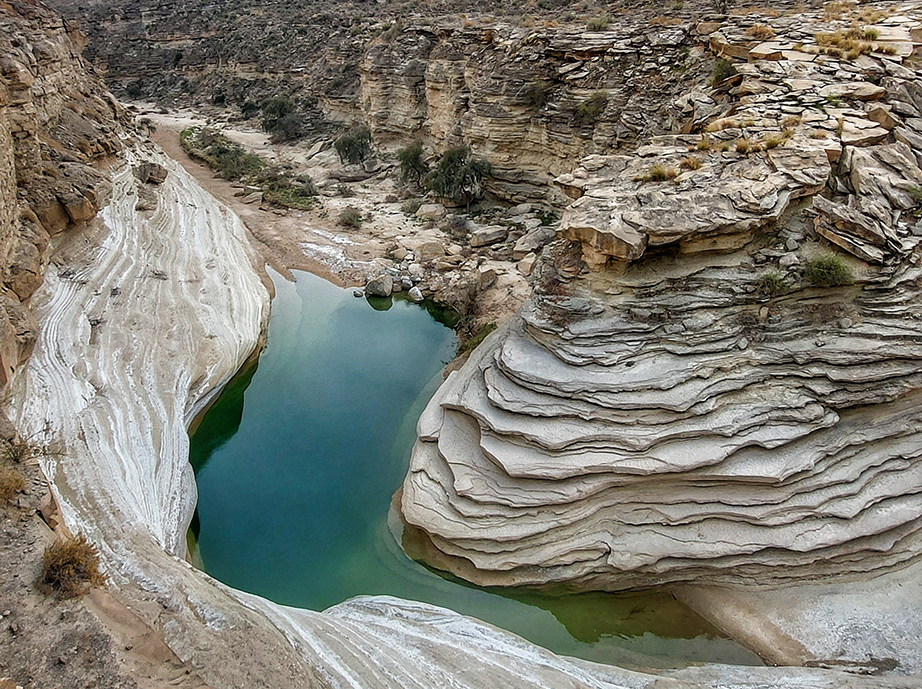 We have done the research and selected four of favorite Iranian Ports in the Persian Gulf, each one has its extraordinary attractions. The best way to visit these beaches and islands is by getting to Bushehr or Asaluyeh airport. From there, you can start your road trip along the Persian Gulf easily. These four Ports are not far from each other, meaning you can visit all of them in less than a week.
Enjoy the Super Clear Waters of Kangan Port
Port of Kangan rose to popularity when local people started to talk about its secret beaches and swimming holes on social media. Soon after that, young Iranian travelers began their adventure through Kangan's numerous cities and villages. Port of Kangan is located in Bushehr province. The city is small, but there are countless natural tourist attractions around the city to keep you busy.
Kangan city is surrounded by white sand beaches. No matter in which season of the year you travel to Kangan, you are always capable of finding your ideal corner. The city is also filled with friendly locals, who are super trustworthy. The majority of Kangan residents are fishermen who bring the daily catch for fantastic seafood for tourists.
Apart from the silence of its beaches, Kangan is also known for its mountains, valleys, straits, and swimming holes. In the silence of the city's incredible mountains, you can start your adventurous hiking and enjoy a leisurely walk near mysterious valleys. Some of these valleys are decorated with odd-shaped swimming holes. In these remote swimming areas, you can spend the whole day in chill waters and relax.
Kangan city also provides tourists with numerous water sport activities, including standup paddleboarding. With the help of local trainers, you can learn to surf in Kangan city and float in the blue waters of the Persian Gulf. It is also recommended to experience recreational fishing with local fishermen in Kangan. With the help of your guide, you can join the friendly fishermen on their traditional launches and spend a day experiencing various forms of fishing on the Persian Gulf.
If you planned to visit Kangan city, do not forget to go to Hanviz plain. This beautiful green and flat plain is located in the vicinity of Kangan city. What makes this plain extraordinary are deep canyons cutting the ground, illuminating the gold sandy walls. In Hanvis plain, you can also find natural springs and enjoy the freshness and unique taste of water with minerals.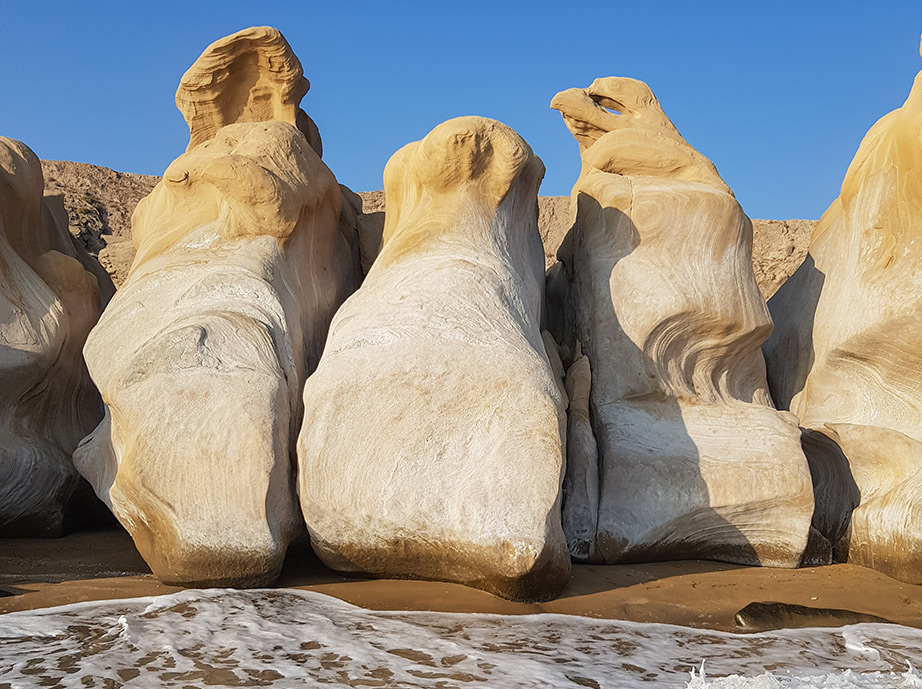 What to eat in Kangan City?
The Persian Gulf has an incredible fish range for tourists coming from all over the world. Among all cities and villages around this beautiful coastline, Kangan city is well known for its fishes, shrimps, lobster, and crab. The city's traditional houses are famous for their traditionally prepared seafood.
Apart from grilled seafood, the local cuisine that is considered the best in Kangan is Ghalieh Mahi, a fish stew made with local herbs. Kangan is also the best place in the region to find perfectly prepared Majboos (Rice and fish) and Soor (traditional salted fish).
In the evenings, local people will serve you Arabian coffee with legimat (or Lugaimat: Sweet dough balls) and Ranginak (Date Cake). Do not forget to eat Loz (local summer fruit) and Tarooghe (local beverage).
Take advantage of the safe beaches of Kangan and use the opportunity to stay one night in camping spots nearby. If you want to stay more than two nights, we recommend choosing one of the traditional houses in the area. Accommodations and facilities in Kangan city are basic, but you have the chance of eating local cuisine and spending the night with local music players.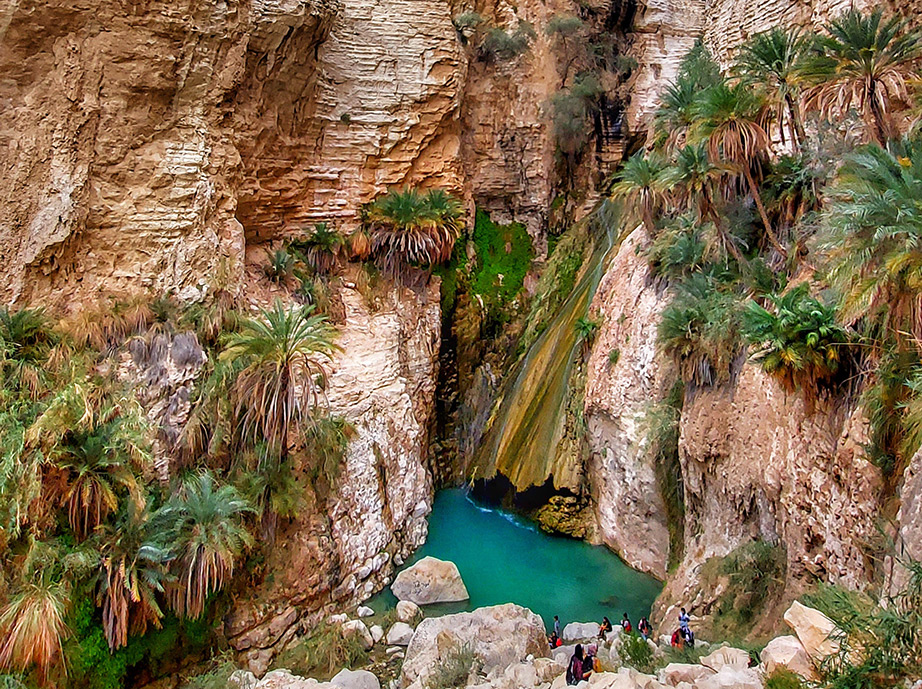 Siraf: The Most ancient Port in Southern Iran
Many tourists stay in Kangan city to visit Siraf port, an ancient town whose history goes back to Sassanid Period. Siraf was once the centre of maritime commerce in southern Iran, the region's gateway to the world. There are many things to admire in Siraf port: beautiful beaches, historical buildings, breath-taking temples and mosques, and friendly and welcoming local people. Ask your local guide to take you to "Lir valley". There you can find an astonishing ancient cemetery with historical ossuaries. The area is also decorated with numerous stone wells, believed to serve as water reservoirs in ancient times. Another main attraction in Siraf is the Nasouri castle, which dates back to more than 200 years ago in the late Qajar era. The Siraf Jame Mosque is among the most important cultural monuments in the city that worth a visit. To find out more about Siraf's cultural heritage, you can also take a tour of the city's anthropology museum. There is a lot to see and be fascinated with.
If you have enough time, visit Siraf's beach as well to enjoy its clear Mediterranean water. Do not forget to take a free walk around the city. You will get a feel of the port and learn much more about people's culture.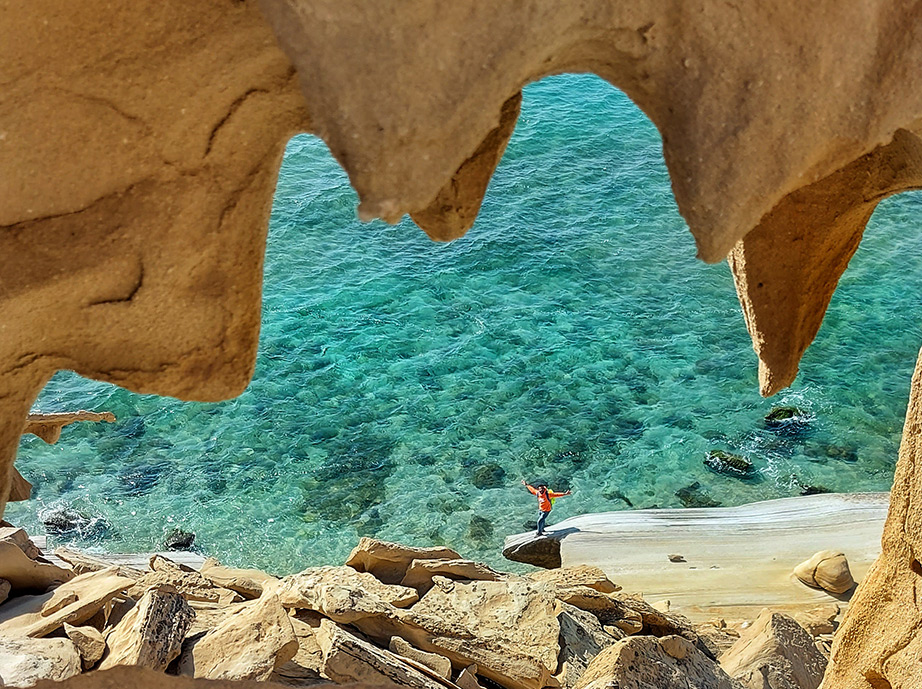 Asaluyeh: Iran's Beach Paradise
Asaluyeh port is not far from Kangan city in southern Iran (only 83 Kilometer). This magnificent city is surrounded with tourist attractions, including Nayband Gulf, Banood village, and Darzoo canyon.
From Asaluyeh you can easily wander to Nayband Gulf, where the biggest Iranian Mangrove forest is located. These forests are located in a national protected area with lots of wonders to offer, including migratory birds such as flamingos and pelicans, sea turtles, and shallow waters optimal for safe paddling. What separates Natband gulf from other tourist attractions in this region are its coral hills and deep colourful valleys. You can escape from the crowd, relax on the quiet beach and join the party with local people at night.
If you prefer off-the-map beaches, head to Banood village to find yourself in a fabulous seashore with fantastic water caves. Here you can find your camping side and spend the whole day in the clear waters of the Persian Gulf.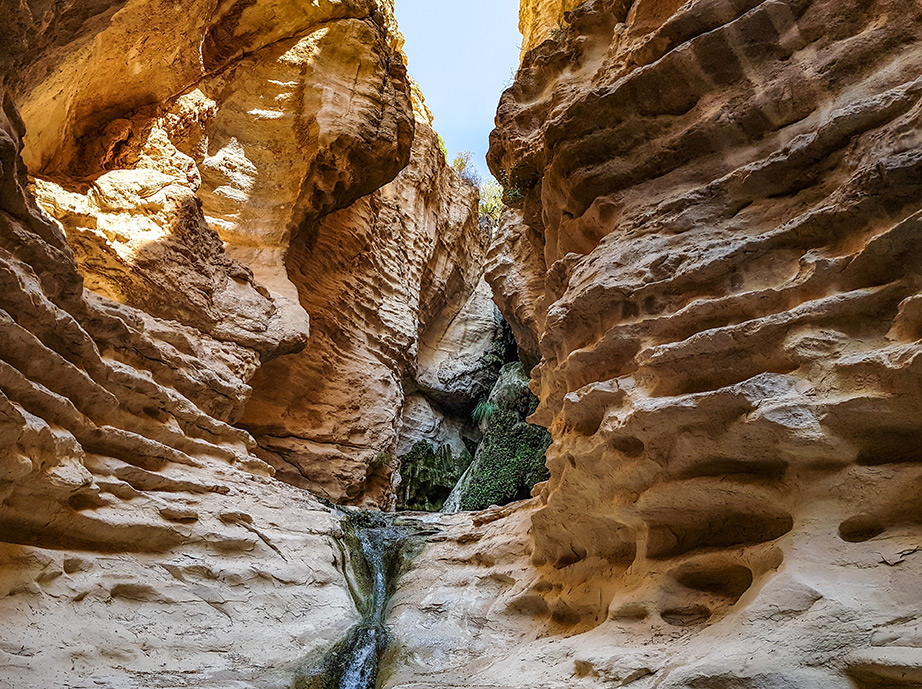 Asaluyeh is undoubtedly the land of blue-green waters. One of the favourite natural beauties in Asaluyeh is Darzoo canyon and waterfall, which is a bit difficult to reach but still worth visiting. This incredible waterfall is located in Akhand village, encircled by beautiful palm trees and astonishing rocky cliffs. After a long hiking trip through the canyons and valleys, you can lay your feet and body in chill green waters and enjoy the spectacular view of multicoloured cliffs.
Another spectacular village in Asaluyeh is Kalat, known for its stunning spring. The space is cozy, and you can enjoy your time swimming and looking out the clear sky from the hollow right above your head.
In a quiet corner of Asalooye city, you can also find Pazarland village, popular for its extraordinary hotel "Viola". The guest house's rooms are made from giant pipes. These cozy pipes are fully furnished, and their interior design reminds the residents of local homes. If you want to spend the night in the region, we recommend choosing Viola's pipes. The area in which the rooms are located is genuinely heaven. You can spend the night in the silence of the beach and wake up in the morning seeing the azure blue waters of the Persian Gulf.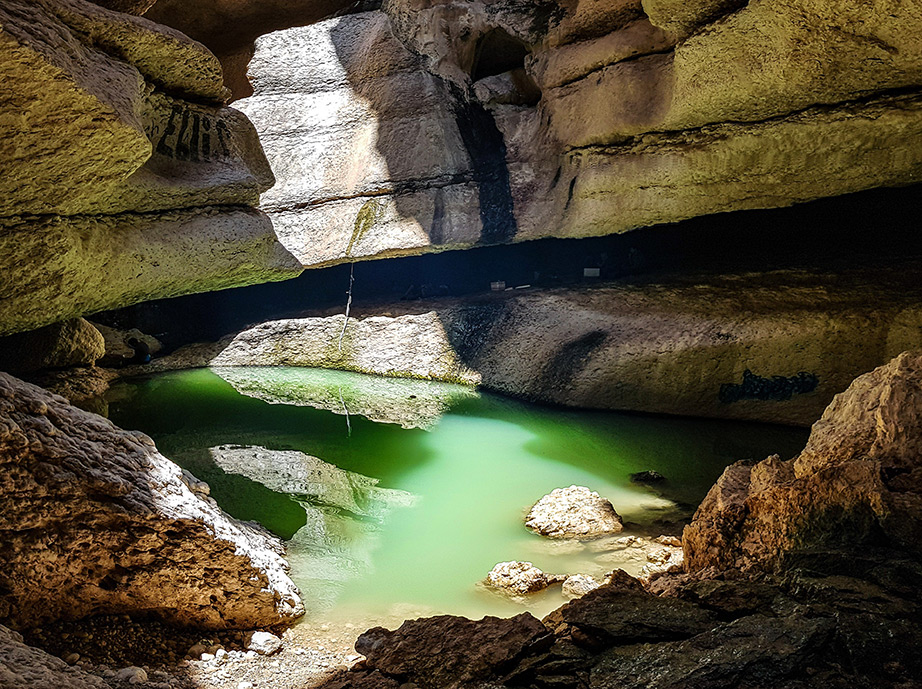 Parsian Port: Tha Land of Underground Swimming Pools
For tourists who love the harmony of the sea and mountains, the Port of Parsian in Iran is the best choice. The greatest thing about Parsian is its numerous beaches, most of them unknown to tourists. From turquoise blue waters and white sandy beaches to perfect seafood, Parisan has it all. Many Iranian young people head to this region to swim during the day and party at nights.
The majority of Parsian's natural beauties are lost in the mountains. On the east side of the city, you can find the most mysterious Iranian cave and spring, named "Bochir". To reach the spring, you need to pass through valleys that are 50 meters in height. During autumn and winter, Bochir cave is full of natural swimming pools. To reach the last spring, visitors need to float in water or get an inflatable boat. Fortunately, Bochir spring is hidden in caves and will not be overrun with crowds. The white sandy walls and green waters in Bochir cave form a spectacle of rare beauty.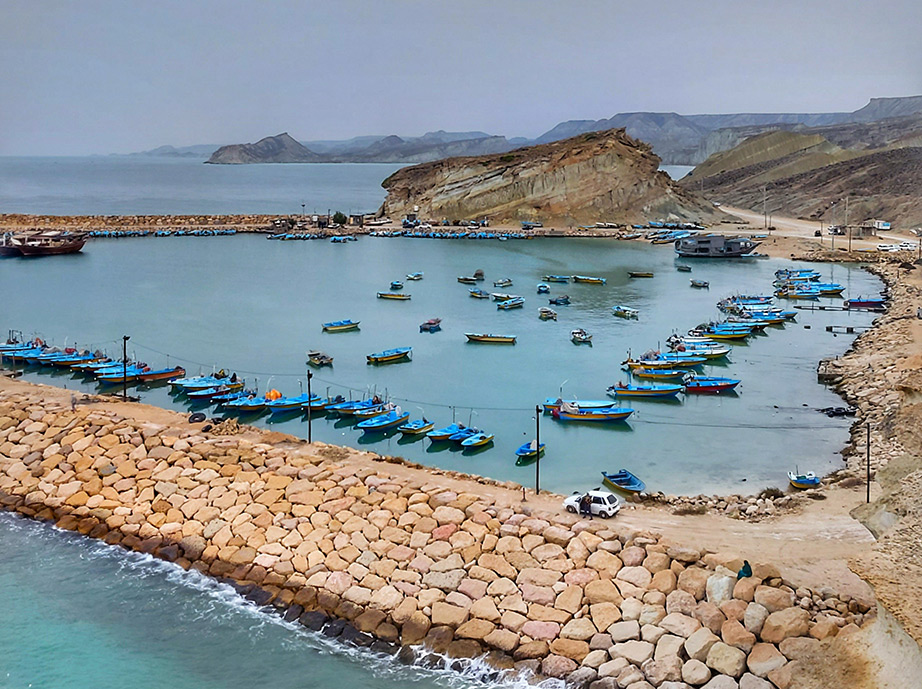 Another hidden wonder in Parsian city is the Shotariko strait. Shotariko is home to another stunning swimming pool, which is accessible through a small dark passage. However, the strait has a giant hole to the sky, illuminating the clear waters with the sunlight. The cool turquoise waters of Shotariko make it a unique place for swimming.
The best part of your trip to Parsian city can be driving along the popular beach road from Parsian to Mogham, where you can see the spectacular mountains and a place known as "Lovers' Road". Continue your exploration along the Persian Gulf to reach Mogham's beautiful coast called "Maksar" by local people. On this quiet beach, you can lay in the sun and serve yourself with traditionally backed seafood. Free overnight camping is also recommended on the safe beaches of Mogham Port.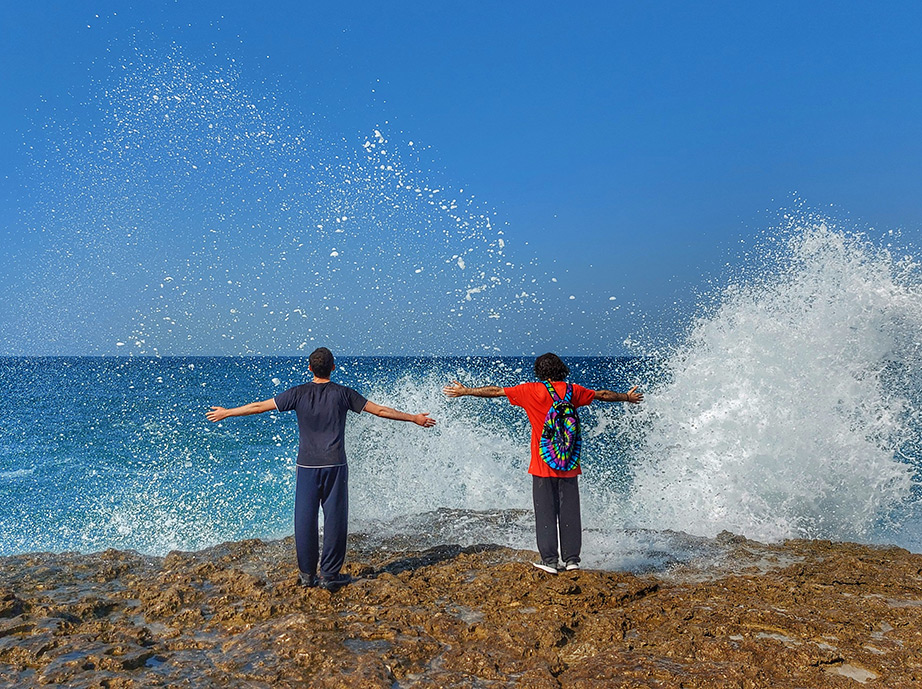 Almost hidden in the deep waters of the Persian Gulf, another tourist attraction exists that you may not want to miss out: "Shidvar" Island. To see this amazing place, head to "Lavan" and ask a local guide to take you to Shidvar. The tiny Island can be reached by boats only and has nothing less than the world's renowned islands in the Mediterranean Sea. Apart from its stunning rocky and sandy beaches, this Island is the habitat of green and hawksbill turtles, dolphins, and swallows. Beware that Shidvar is a national protected area. Therefore, it is impossible to visit the island during the spring, when turtles lay their eggs.
The Persian Gulf has a growing beach scene, meaning there are plenty of new tourist attractions emerging all the time. Keep checking our website for new astonishing beach destinations that pop up along the Persian Gulf.
General tips for travelling to ports of Persian Gulf:
Start your journey from Port of Bushehr in Southern Iran and visit all cities and villages until you reach the Port of Bandar Abbas.
These ports are home to Iranian best cafés, restaurants, and traditional houses. Many of these places are owned by local people. Thus it is recommended to taste the authentic local food in these places and spend your days and nights in a lively atmosphere with friendly locals.
Wedding ceremonies in the Persian Gulf are super cool. If your guide invited you to a wedding ceremony, do not hesitate to join the party.