Shiraz is one of the tourist destinations that many want to visit because of its tourist attractions. It is a city known as the city of lovers and poets. In terms of culture and civilization, history, and natural attractions, Shiraz is unique and has it all. When traveling to Shiraz, there is plenty to do, here are some of the best places to visit in Shiraz.
If you think that the pyramids of Egypt are the most magnificent ancient civilization you had ever seen, seeing tall and majestic stone foundations and extraordinary statues of Persepolis will change your opinion for sure.
Great Persepolis or the "city of Persian"; this was built about 500 BC, and 200 years later, it was set on fire and destroyed by enemies. The Persepolis remains are structures, made entirely of stone and what is known today as Persepolis, are stone foundations and statues leftover from the fir and they are related to different parts of this ancient capital.
Persepolis, one of the places to visit in Shiraz, used to be the spring residence of the Achaemenids (the kings of the time who had formed a glorious civilization). In Persepolis, Nowruz celebrations were held with unparalleled splendor, and people from all over the Achaemenid lands used to come to pay their respects to kings and participate in religious ceremonies.
This collection of ancient sites, has numerous statues, mansions, stone inscriptions, and columns which standing under them, and seeing them from down there arouses enthusiasm and praise.
This complex stands one of the most historical sites in Iran and is celebrated by the UNESCO World Heritage center.
Best hotels near Persepolis are Takhte Jamshid Tourism Hotel and Apadana Hotel.
Mosques are religious symbols of the people, and countries around the world have several exceptional mosques on their list of ancient monuments.
Nasir-Ol Molk mosque is one of the tourist attractions in Shiraz. While visiting a place like this, on one hand, they can help you to get a sense of the spiritual and religious traditions of Iran, on the other hand, they are rich examples of architectural and artistic styles of post-Islam structures created by Iranian people. For instance, Nasir al-Din mosque (aka Pink mosque) in Shiraz is one of the most stunning mosques in Iran. At certain times of the day you can practically watch the rainbow of Iranian art from inside this mosque. I'm not talking metaphorically because, after the sunrise, the sun becomes brighter every second and its light shines through the colorful windows of the mosque.
The best time to visit this mosque is 8-10 in the morning. In summer, Nasir al-Molk becomes very crowded. The crowds are so large that some foreign tourists prefer to visit it in winter.
The Pink mosque was built by the order of Mirza Hassan Ali Khan, nicknamed Nasir al-Molk. Nasir al-Molk is a masterpiece of tiling. A large fountain is located in the courtyard of the mosque. Seven wooden doors connect two naves to the mosque, doors are full of stained glass, and the reflection of light from them creates a color scheme and unique effects on the mosque's carpets. The pearl arch in the north of the mosque. It's full of colored tiles with Quranic verses written on them is one of the most remarkable places in Nasir al-Molk.
Best hotels near Nasir-Ol Molk mosque are Hadish Hotel, Hafez Hotel, and Arg Hotel.
The tomb of Saadi or Saadieh, is the former residence, monastery, and then tomb of Saadi. He was the famous poet of Iran's land.
Every year, the lovers of this prominent Iranian poet are drawn here to commemorate him and his outstanding poetry and spend a happy time in the gardens around the tomb.
The tomb of Saadi, which is located in the north of Shiraz and at the foot of the mountain, is not only the burial place of Saadi. Around Saadi's tomb, many tombs are belonging to prominent writers and poets of Shiraz, including Shoorideh Shirazi. There are exterior and interior that each one is unique in its own way of architecture, another recommended place to visit in Shiraz.
Walking in the pleasant atmosphere of Saadieh, which is located in one of the beautiful streets of Shiraz called Bustan, You are confronted with a world that speaks to you of Persian poetry and literature. While walking, you can also visit a pleasant garden, which is decorated with beautiful trees and plants.
According to locals, the best "Shirazi Faloodeh" can be found in this place, and if you have an appetite for a kind of cold, sweet and exceptional dessert, in all seasons even in winter you can enjoy the taste of Faloodeh in this place.
Best hotels near Tomb of Saadi are  Shiraz Tourist Hotel, Park Saadi Hotel, and Shiraz Grand Hotel.
You can also see: Atigh Congregational mosque, Shiraz, Iran
Contrary to popular belief, Shiraz is not just a city of culture, literature, and history. Gardens in Shiraz are world-famous and the smell of orange blossoms is intoxicating in May.
The most famous garden in Shiraz is Eram garden. Eram garden is one of the most beautiful gardens in Iran and definitely one of the places to visit in Shiraz. Right now it has been given to Shiraz university as a botanical garden.
This garden with cypress and orange trees, at one time, has been only a place for aristocrats and nobles to cross, but for years now, its doors have been open to tourists.
You can go there and see these beauties. When you went to Shiraz, go to Eram Street and visit this garden there, and you can see how Iranians used to create the most extraordinary places in the past.
When you are there, you'll see citrus trees and fountains, as well as the mansion hall, which stands with two columns. Fountains in the pond and mansion architecture are no less beautiful than trees and flowers.
This place is very spectacular, but what captivates the viewers the most is the flow of running water passing over turquoise tiles in the bottom of the man-made pond and pass through the middle of the hall. The garden has many attractions, that the description of all of them does not fit here.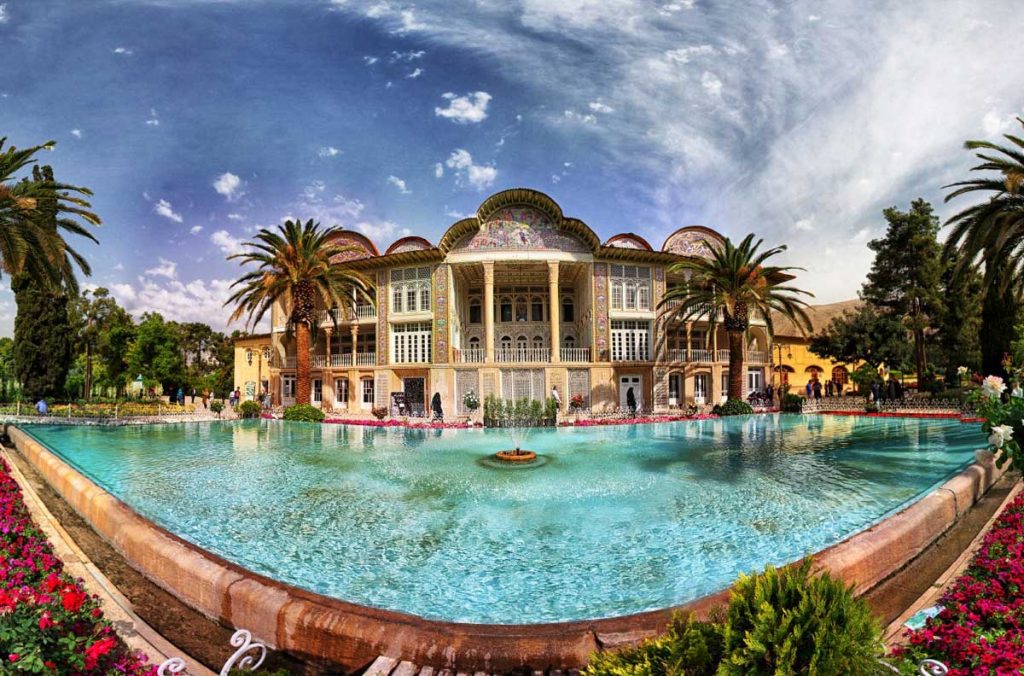 Best hotels near Nasir-Ol Molk mosque are Hadish Hotel and Arg Hotel.