Contrary to popular belief, souvenirs in Tehran are very diverse. You might think that Tehran does not have many souvenirs for itself and most of the items that are in abundance in Tehran come from other cities of Iran.
For this reason, when it comes to Tehran souvenirs, the only thing that comes to mind is clothes, bags, and shoes, because Tehran is a city full of glamorous shopping centers and there is a mall almost on every street of the capital.
However, let's not forget that Tehran is one of the oldest and most recognized cities in Iran as well, which has a long history with a rich culture and customs.
Culture and civilization lead to local products, therefore souvenirs that are specific to this place and you can buy them in the best stores in Tehran.
In this article, we try to introduce you to Tehran souvenirs, delicious foods, interesting handicrafts, and local artworks.
Damavand Red Apple
Let's start with Damavand red apple, which is by far the most famous product in this region. If you spend the summer in Damavand city, a county in Tehran province, it is a pity to leave the place without buying some of these red delicious fruits.
The apples produced this season are known by different names such as Shafiabad, Gulab, Ayegh Almasi, Kohnz, and Ghandak, one is juicier than the others.
In autumn, Damavand apples have different varieties that contain Shemirani, Golshahi, Abbasi Mashhad, Daryan, and Akhlamad apples. Among this list, Gulab (means rose water) apple is probably the most familiar apple type that you have come across.
Of course, the natural souvenirs of this county in Tehran are not limited to apples, and Damavand walnuts and honey have also gained a great reputation for themselves.
Damavand's climate around Tehran has made the best Iranian apples in this region. For this reason, apples and their products such as apple cider and apple juice are considered as souvenirs of Tehran.
Read more: Mount Damavand Adventure Tour (Northeast Face)
Doogh Abali a famous sour delicious beverage (yogurt soda mint-flavored drink) which many may have heard of, is best to have with Kebab and fatty foods.
Doogh Abali, beneficial for good digestion, has a wonderful taste and is one of the very old products of this region.
Abali is a city in the Rudehen district of Damavand county in Tehran is well-known for its salty local Dooghs, which can also be found in the city center.
The best way to keep the dough in good condition is the refrigerator. The Doogh factory is located in this city and to make it, they use the water of springs located in this area. It is recommended to buy Abali Doogh in Abali city and local shops on Haraz Road.
Tehran Sohan
Sohan is one of the most popular traditional sweets in Iran, which is mostly considered as a souvenir of Qom, but it is interesting to know that Tehran province also has delicious and quality local Sohan for different tastes.
If you travel to Tehran and visit the Shah Abdol-Azim shrine in Rey, be sure not to forget Sohan, a delicious souvenir there.
The city of Rey is located in the southern part of Tehran province and has a famous Sohan, a not so expensive souvenir in Tehran, but at the same time dignified and respectful for your friends and family.
Shahriar Raisin
Shahriar is a city and capital of Shahriar county in Tehran province, which their high-quality raisins and grapes are very marketable as well. These agricultural products will provide a sweet taste on your trip.
Shahriar is one of the pleasant cities of Tehran and this feature makes it a good place to grow various crops such as fruits, beets, cereals, among which grapes and raisins are prominent.
Besides, if you go to Shahriar in the summer, do not miss greengages presented by the vendors.
Lavashak and Sour Marmalade
Darband, in addition to a pleasant atmosphere, excursions, and entertainment, is a good place to buy Lavashak (Persian fruit leather) and sour marmalade's made by mixed fruits, pomegranate, cherries, sour cherries, plums, and other sour and sweet fruits, which are among the most mouth-watering sour snacks that you can take with you from your trip to Tehran.
Plus, Firuzkuh, located in Tehran province also has many products that can be mentioned, including wheat, barley, legumes, leeks, apricots, apples, pears, cherries, and sour cherries.
You may see many juicy dried cherries and sour marmalade in Tehran bazaar that make your mouth water, and every year, a significant crop of cherries and sour cherries in Tehran province comes from Firuzkuh and around the city is full of street vendors standing by to sell them to travelers.
Firuzkuh Gulaj Bread
In different cities of Iran, bread is baked in different ways and the people of Tehran have their special types of bread as well. Among them "Firuzkuh Gulaj bread" is still prepared in the same traditional way, by using fresh local ingredients.
The Gulaj bread is another souvenir of Tehran province, baked especially by Firuzkuh trips and since the products and livestock of the rural environment are used for baking the bread, it is very nutritious.
Ingredients of this fine bread are fresh milk, fresh flour, water, local eggs, sourdough, and cinnamon. After mixing the ingredients and making the dough, they knead it for a long time and then roll it and fry it in animal oil.
Coffee
Another enjoyable souvenir of Tehran is coffee and There are many coffee shops in Tehran and when you pass by them, you can smell the coffee on the sidewalk and the street.
Read more: The Ultimate List of The Best Souvenirs from Isfahan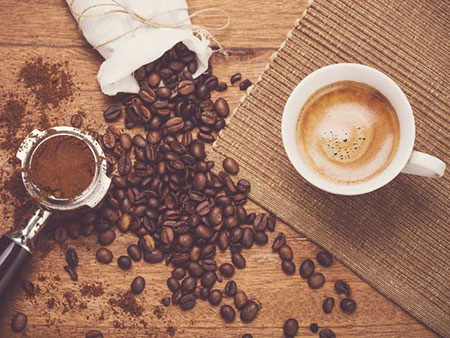 Leather Paintings
Leather Painting, a distinctive relic from the Qajar period (dynasty era) is one of the favored handicrafts of this city and a good offer to buy as a souvenir in Tehran.
In ancient Iran, the nobles of the country wore leather riding boots with artistic paintings on them. Besides, wherever leather was used, such as bookbinding, leather bags, etc., there were paintings involved. In fact, painting on leather valued leather.
Painting on leather is a money-making art, even though this art has a limited extent today only in decorating modern leather accessories.
After painting on leather, painting and drawing on the fabric are also promoted among the craftsmen of Tehran. In general, it can be noted that Tehran is a good city to buy all kinds of crafts because the area around this big city is full of towns and villages, each has its own traditional artisanship and brings its products to the markets of Tehran for sale. As a result, you have several options for buying different souvenirs.
Batik
Batik is a type of printing on fabric that is more common in the cities of Tabriz, Esco, and Tehran. In batik, various designs are printed on the fabric using molds. To do this, they use natural colors such as turmeric, pomegranate, Ronak, and spark.
These days, considering the situation of local crafts in Tehran, the probability of finding these souvenirs in Tehran is very low! If you find one of the rarest souvenirs in Tehran, we suggest not to hesitate to buy it.
Pottery
Pottery is a common art in most cities of Iran and also has significant roots and history in Tehran.
Tehran was highly regarded as the capital of Iran during the Qajar dynasty. At the time the population of the city was increasing and the need for utensils and necessities of life was growing along with that. For this reason, many pottery artists came to Tehran and settled in this city.
The craft-works of Tehran potters are unique and one of the superior characteristics of Tehran pottery is the use of high-quality clay in the manufacturing process.
Read more: Unique Souvenirs from Shiraz; Crafts, and Cuisine
Glassware
If you visit the historical palaces of Tehran, you will definitely be fascinated by the glassware and stained glass decorating mansions and old houses, delicate glassware that are the artworks done by Persian masters.
Glass-making has a long history and is considered one of the best souvenirs in Tehran. At present, glass workshops are not as active as before, but Tehran glassware still has its fans, and in the old markets of the city, you can buy these shiny dishes as a souvenir of Tehran.
Persian Carpets & Rugs
Carpets and rugs are among the most well-known handicrafts souvenirs in Tehran, and carpet weaving in Tehran, especially in its rural areas of this province, like non-urban regions of Karaj, Damavand, and Shemiranat, has grown significantly.
In the city of Tehran itself, there are also carpet weaving artists who have focused their main activities in the field of face weaving, Pictorial carpet, and volume-weaving carpets.
If you cross the intersection of Enghelab Street and Valiasr Street, there is a line of carpets and Jajims and very exquisite rugs, which are the artworks of Persian artists.
Jajim
Firuzkuh region in Tehran is also considered as one of the centers of Iranian wool production due to its mountainous nature and the growth of animal husbandry, and for this reason, the Jajims of this area are very famous.
Firuzkuh artists have not yet left behind Jajim weaving art and we should include Jajim as a souvenir in Tehran as well. You can find Firuzkuh hand-woven Jajim rugs along with handicrafts of other cities in the Parvaneh shopping center in Jomhouri Avenue, Tehran.